Cape 3 Points is a remote fishing community in the western region of Ghana. Quality educational resources are lacking, but there is the aspiration for change with community members and teachers having big dreams for the future of education in their community!
What have we together done so far?
Since 2022, using some funds raised by students in Sevenoaks UK, we have created a small library space within the school that will act as a resource centre, open beyond school hours.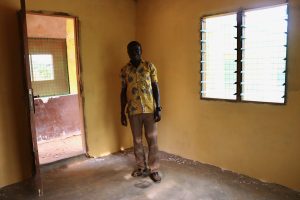 We have supported the connection of electricity to this area of the school so that learning can take place in the evening, alongside providing furniture for the library and adjacent classrooms, alongside Ghanaian storybooks and textbooks.
The school have donated a spare bookcase alongside chairs and tables to make the space operational as quickly as possible, with the painting even completed by the headmaster himself! Take a look at the photos of the space being used by students at night below, extending their learning hours considerably!
12 local volunteers from Cape 3 Points will be travelling to our regional conference in Elmina in May to receive training and collaborate with others in the areas of project management, literacy development, early years, girls' empowerment and practical science and environmental education, before choosing which clubs they will lead at the Spot.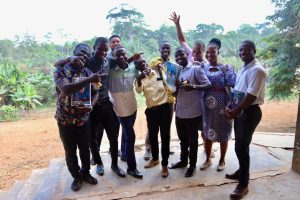 Hopes for the future
As a team, we all have bigger dreams for the project and the community.
These are the items that the community volunteers are requesting more support with in priority order, to enable them to lead further change in Cape 3 Points.
1. Further furniture to allow more kids to read and study in the space (tables, chairs and bookshelves)
2. A community event to explain the EduSpots' project, commission the project and promote the value of education more widely.
3. Refurbishing the classroom next door to the library to allow more space for learners to read and study.
4. IT equipment and projector
5. Support for a girls' empowerment project
6. Kindergarten level resources and games
7. Local textbooks
8. Science equipment
9. Local storybooks
We will place photos of all items funded on this fundraising page. Note that EduSpots is a UK and Ghanaian registered charity with all of our accounts audited. Fundraising here will be restricted to all costs relating to the Cape 3 Points project.