We support communities in Ghana by providing sustainable items such as books, science kits and IT equipment, as well as supporting with construction in order to create their 'spots'.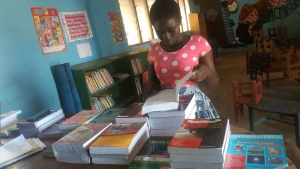 Schools can help by organising their own resource drives.The drives can be done at any time of year, with a shipment from Sevenoaks every March.
So far we have shipped over 80,000 books to Ghana as well as leading book collections across Ghana. We are particularly keen to receive any African fiction or non-fiction books, towards this much-needed resource.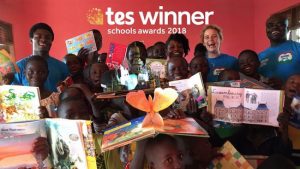 What difference do your collections make?
A volunteer teacher in Kalpohin, Northern Ghana:
"Our library receiving books meant that it was possible for each of my students to have one book each in reading sessions. Pupils have begun to fall in love with reading, having a book in hand is no longer a luxury. It has improved their written and spoken English considerably, leading to significantly improved examination results."
A video created by pupil ambassadors at Brighton College:
We request that all resources are in excellent condition.
We are especially looking for:
Picture books and early readers for ages 2-8
Early literacy guides
Dictionaries (English and other languages)
Encyclopedias and atlases
Motivational and self-help books
Professional development books of all kinds
African fiction and non-fiction
Science books and other non-fiction books (especially for students)
Educational DVDs
Educational games and equipment (especially science equipment)
Laptops and resources
Any good quality fiction or non-fiction books that you can imagine being enjoyed in a remote Ghanaian library are very much appreciated.
We would rather not receive any:
Very out of date non-fiction books
Damaged books
Books that are cultural inappropriate (use your own judgement – we will also sort through them all.)