We are looking for students to become part of the EduSpots organisation by becoming a student ambassador for their school. You can sign-up right now at this link and receive further information. 
It is a role where students will be able to develop their leadership skills and one where students will directly see the change they create, with potential to count towards the Duke of Edinburgh's Award. Below we have enlisted how students can get involved in the organisation and help lead change!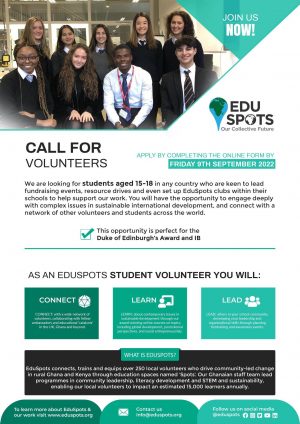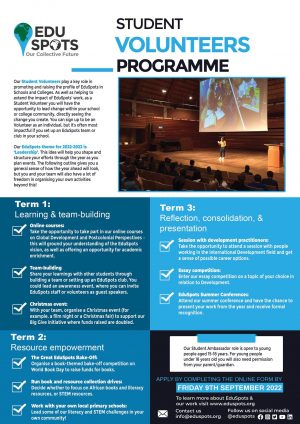 Key Resources 
For more information please email info@eduspots.org, we would love to hear from you!
Download our school-based Ambassadors handbook here: School Ambassadors Handbook-2.
How can students lead change? 
Promote our online courses amongst their fellow students and online.
Share our work on social media 
Lead a weekly society on a global development or community action in their school based on the online courses.
Hold fundraising events in support of EduSpots
Meet Claudia
Claudia, a recent leaver from Malborough College, is one of our student coordinators who following her introduction to the charity through the online development course, became directly involved. During her time at the school she helped organise a book drive alongside many other fundraising events, also travelling to Ghana and speaking at our annual conference in Techiman.
" I developed my passion for cross-cultural discussion and partnerships and consolidated my enthusiasm for sustainable development while also having the opportunity to meet some truly inspiring mentors and other educational catalysts."