Our core vision is a world in which communities unite to create the future that they want to see through education.
Cost effective nature of our model

Dream Spot Model
Together with our communities, we have created a model for how we think the 'ideal' or 'dream' Spot would operate.
Theory of Change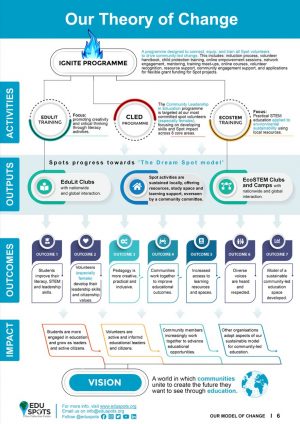 Our Process
Our process in Ghana involves the following stages (note that 'we' refers to our locally based team):
We identify individuals or teams who want to create change in their communities through education.
We help them to build a team and strategy to create that change built from local community interests, also connecting them to a network of over 250  volunteers who share ideas via WhatsApp and conferences.
Selected Catalysts participate in our Community Leadership in Education (CLEd) programme, which involves training in basic project management, community engagement, education programme design, child protection & inclusion, fundraising & social entrepreneurship,  literacy development, practical STEM and communication for change.
We support them in the creation and management of 'Spots' (community-led libraries), often supporting with books, science kits, IT equipment and supporting construction where needed, or identifying pre-existing spaces.
We offer communities optional trainings in leading literacy (EduLit) and practical STEM (EduSTEM) clubs with the option to apply to lead our 10 day 'STEM for a Sustainable Future' camps for JHS 2 students. They engage their students in monthly STEM and literacy challenges and lead locally designed initiatives.
Our Catalysts grow in the confidence and understanding of effecting change.
Many users of the Spots have improved confidence and educational outcomes. We are now witnessing many users becoming new catalysts for action.
Why work with communities and not just schools? Some reasons…
Education can be driven by local aspirations and understanding, relating to local concerns. 

Student performance is directly linked to parental engagement & community influences.

 

This allows students, teachers & community members to take ownership of projects. 

 

Volunteers grow skills & drive project sustainability.

Students can work together on school work and on wider projects that move beyond national curriculums.

 

Students can see active citizenship role modelled by volunteers, leading to later active engagement in their communities. 

All students can have access to space, resources & support in evenings & weekends.

Schools & adults can share resources and therefore optimise usage.

Teachers & students from different schools can work together rather than existing in silos.
Note that many of our 'Spots' are positioned within school spaces, but connect with the wider community.