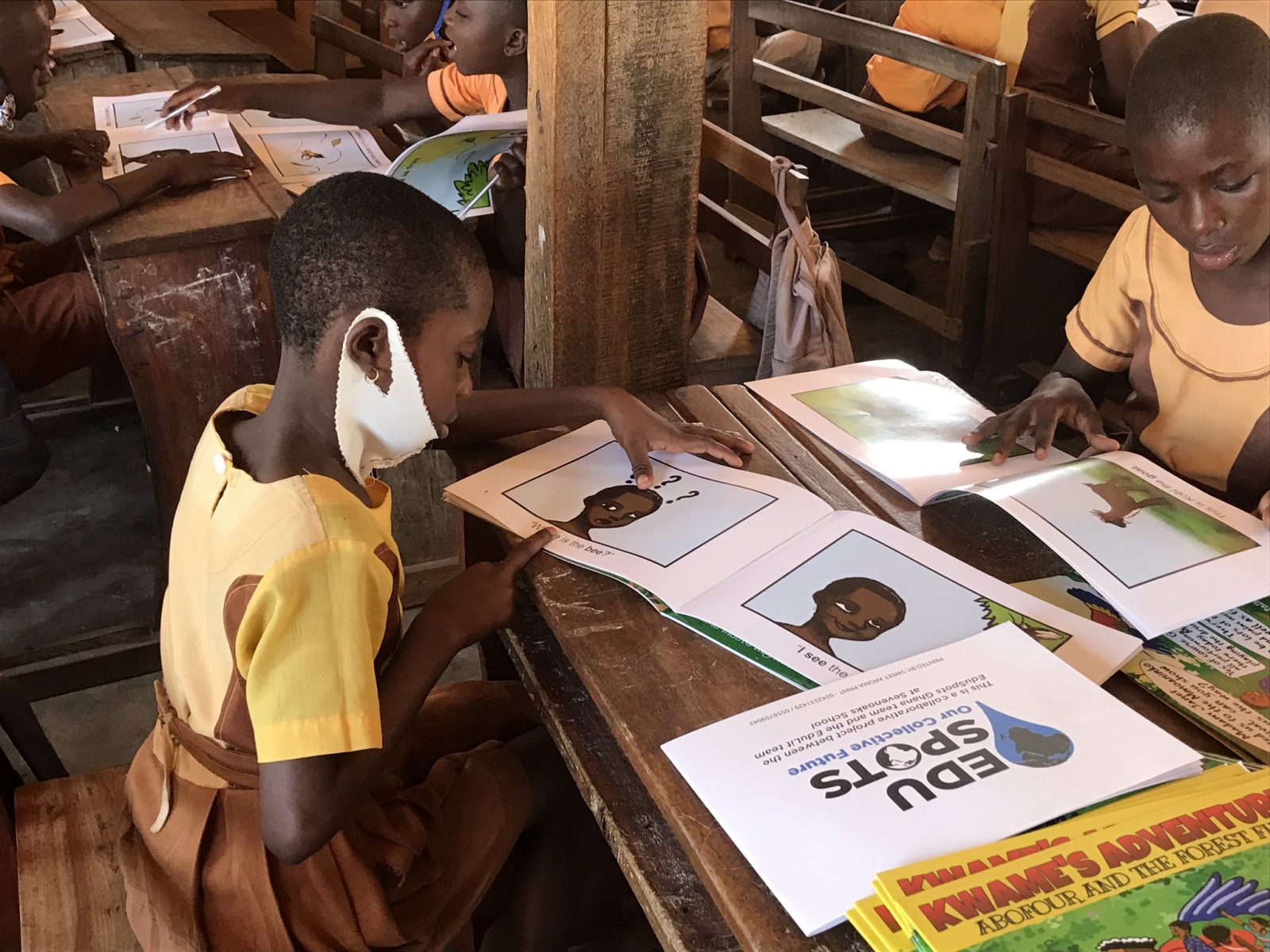 Over the last 5 years, EduSpots have delivered about 120,000 books to close to 44 communities. We have fully stocked about half of our projects and continue to supply books for libraries in our network. In addition, we have printed four of our own books.
Inadequate learning resources continue to be a challenge for learners in low-income communities. For this reason, the provision of books is central to our work of ensuring learning for all pupils in partner communities.
Every year, we organise book drives in the UK and more recently in Ghana to contribute to meeting book needs in our partner communities. Our book donations are also made possible through our partnership with BookAid International, who generously donate books to our communities every year. We also raise funds to supply local textbooks in line with government curriculum and have recently received grant funding for this.
Kwame's Adventures
EduSpots is also committed to a literacy project in partnership with students at Sevenoaks School and Ghanaian illustrator Fleance Forkuo that allows pupils in partner communities to contribute to creating stories mirroring aspects of their lives and set in their community. We recently published the first two editions of Kwame's Adventures and look to explore means of increasing African voices and meeting book needs in libraries in the network. The first two books are set in Tease and Abofour, and given the hugely positive response to the 2000 copies printed, we hope to create versions for other communities, and also sell these books across Ghana.
One of the first children to read the first book commented that "I love the book because it talks about my community and this is the first time I am reading a storybook that mentions my community's name."
Richmond, a local teacher observed that: " When the pupils were told that the story was staged at Tease, their own community, the excitement and readiness of the pupils to read Kwame's adventures was amazing! Teachers too were eager to read and were surprised and happy to see Miss Alice feature in the story".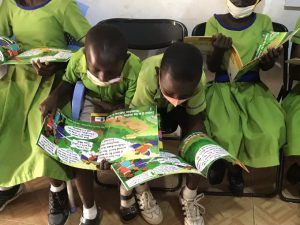 Phonics Books
"If we want to encourage pupils to read then we need to give them books that mirror their world and capture their interest, this is what the book does and I believe more of such initiatives need spreading."  –(Project Leader, Kalpohin Spot)
In addition to Kwame's Adventures, students at Sevenoaks School have worked with the Ghanaian EduSpots team to produce a range of phonics books, with images and words centred on the Ghanaian community context.