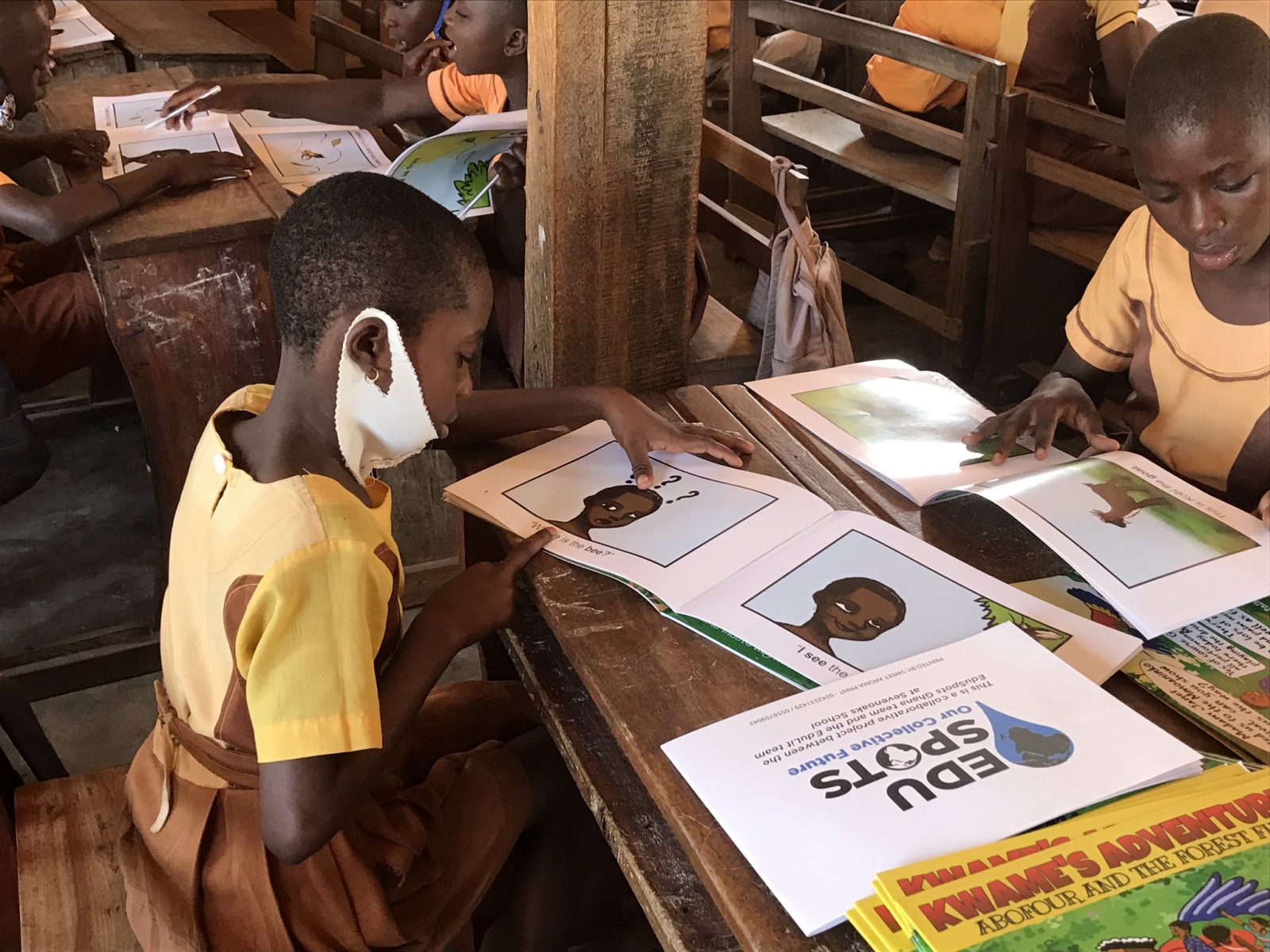 Over the last 7 years, EduSpots have delivered about 140,000 books to 50 communities with a huge focus on supplying local story books by Ghanaian and Kenyan authors, with over £15,000 spent on local storybooks in 2022-2023 so far.
We have fully stocked about half of our projects and continue to supply books for libraries in our network. In addition, we have printed six of our own books.
Kwame's Adventures
We have now published three editions of Kwame's Adventures and look to explore means of increasing African voices and meeting book needs in libraries in the network. The first three books are set in our Spot communities of Tease, Abofour and Akumadan, and given the hugely positive response to the 4000 copies printed, we hope to create versions for other communities, and also sell these books across Ghana. They are illustrated by Ghanaian illustrator, Fleance Forkuo.
One of the first children to read the first book commented that "I love the book because it talks about my community and this is the first time I am reading a storybook that mentions my community's name."
Richmond, a local teacher observed that: " When the pupils were told that the story was staged at Tease, their own community, the excitement and readiness of the pupils to read Kwame's adventures was amazing! Teachers too were eager to read and were surprised and happy to see Miss Alice feature in the story".
You can purchase these books from the Book Nook bookstore here.
Read our Kwame's Adventures books below
Charles, one of our volunteers from Nairobi, Kenya, created a Kwame the Bird puppet!
Phonics Books
"If we want to encourage pupils to read then we need to give them books that mirror their world and capture their interest, this is what the book does and I believe more of such initiatives need spreading."  –(Project Leader, Kalpohin Spot)
In addition to Kwame's Adventures, we have produced a range of phonics books, with images and words centred on the Ghanaian community context.