EduSpots is a Ghanaian and UK registered NGO, which exists to connect, train, and equip over 250 local volunteers who drive community-led change through education spaces named 'Spots'. 
EduSpots as a concept has sprung from the grassroots with volunteers in Spot communities and beyond playing a central role in decision-making and the strategic development of EduSpots, with local leaders inviting new volunteers to join our growing movement of community educators.  
The 'Spots' are led and owned by community committees comprising local educational leaders, traditional leaders, political leaders, teachers, students, and parents. These committees build local volunteer teams, who we connect centrally via WhatsApp, national and regional conferences, and our leadership programmes. 
Volunteers in Spot communities work collaboratively with the above listed stakeholders to help with the expansion of educational opportunities and the creation of projects which are sustainable, transformative and community-led. Ultimately, our Spots are community-led libraries, with a diverse range of education programmes, events and resources, all driven by community needs and ambitions. 
Our Ghanaian staff team lead programmes in leadership, STEM and sustainability, and literacy development, enabling our local volunteers to impact an estimated 15,000 learners annually. Students start to echo the volunteerism they benefit from, creating a world in which communities unite to create the futures they want to see, through education.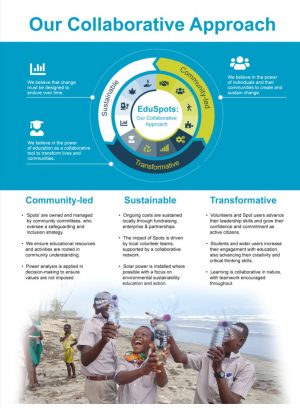 EduSpots won the Tes International Award in 2018, sponsored by the British Council, and was shortlisted for the EDUCOM NGO or Business Contribution to Education in Ghana award. In 2021, our Founder, Cat Davison, was selected as a Finalist for the Varkey Foundation's $1million Global Teacher Prize in partnership with UNESCO, partly for her role in developing EduSpots. We are a Ghana national registered NGO and a UK registered charity.
We are a Ghana national registered NGO and a UK registered charity. You can download all the most recent financial statements and annual reports on the charity commission website.
A news report on our CLEd Academy: