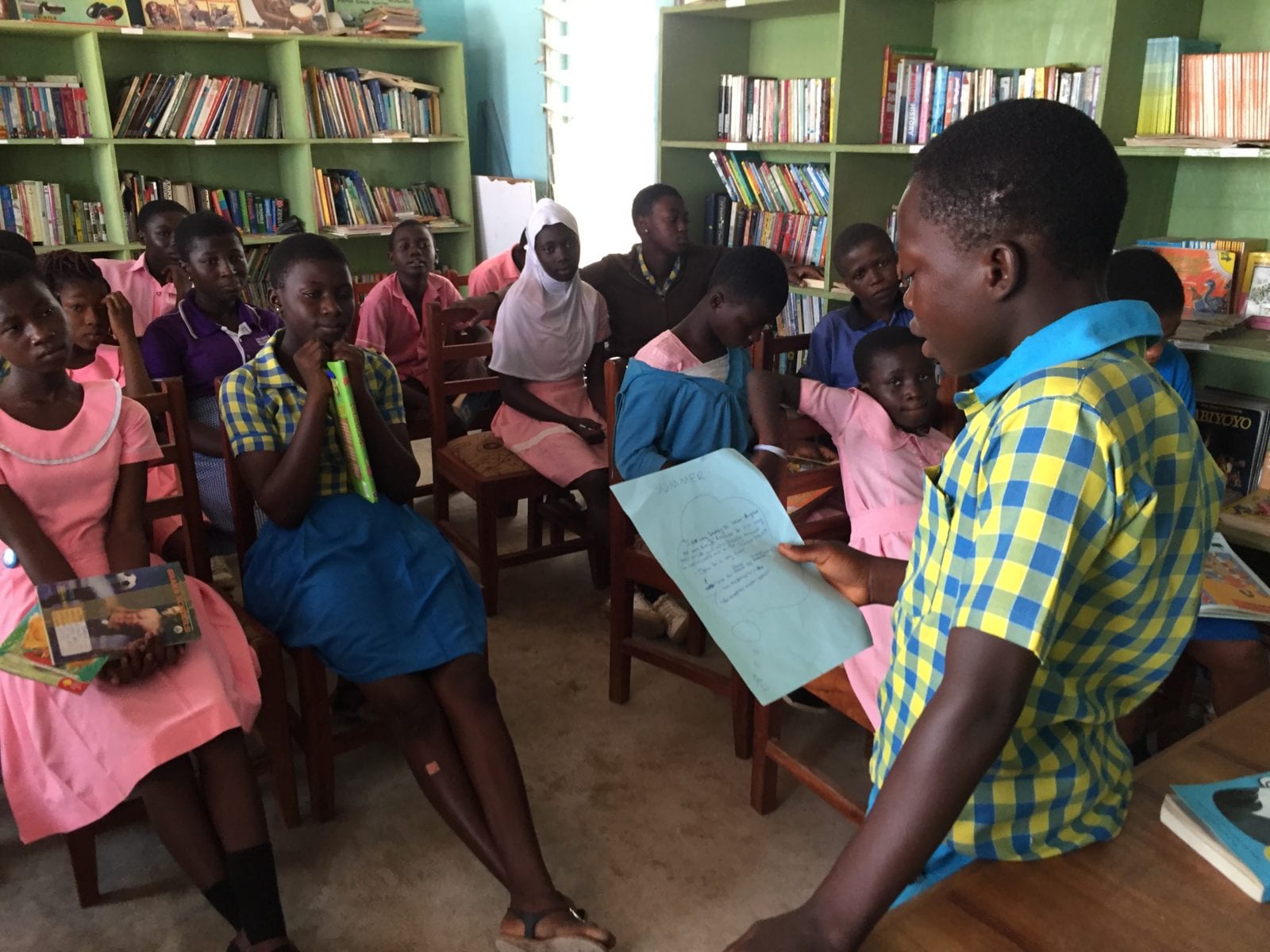 We support the creation of community-wide literacy clubs following training on literacy development. The clubs have mixed-ability students selected from various schools in the community.
The EduSpots Literacy Programme exists to support you with training and resources to enable you to effectively run a literacy club in your local community. At EduSpots, our literacy clubs are called EduLit Clubs, and Junior High School students make up the EduLit Junior Club.
There are two types of EduLit clubs:
Community-based EduLit club –

normally has a membership of students from various schools within the same community.

School-based EduLit Junior club –

normally has a membership of students from the same school.
There are 3 main educational aims that clubs must have in view and work toward:
Improve Literacy Skills

: ensuring that members of EduLit clubs have proficient ability to read, write, use arithmetic, comprehend, build knowledge and communicate.

Inspire Creativity

: creating a fertile environment where members can explore, discover and unleash their potential.

Develop Leadership & Critical thinking

: shaping the mindset of members to identify problems with a strong desire to influence others to take action by designing sustainable solutions for social change.
Club Handbook
We hope that this handbook will be helpful for understanding all elements of running an EduLit club.
The activity templates below are support materials to help club leaders plan activities that are students-centred and facilitate the acquisition of both language and creative skills.
Fiction
Non-Fiction
Creative Club 5 – Advertisements
Creative Club 6 – Simple Arguments
Creative Club 7 – Speeches and Talks
Creative Club 9 – Literacy Game Ideas
Creating a chatterbox
Find the instructions for creating a chatterbox here: The Chatterbox instructions and watch the video below:
You can download them for use in your school or community club. You can also share any ideas or comments with us in the comments.