The Community Leadership in Education (CLEd) programme aims to develop our Catalysts' knowledge, skills and mindset to lead sustainable change in their communities through education, based on their community's aims and aspirations. All those involved in CLEd are currently already long-term volunteers in EduSpots communities.
The programme has 8 core components: Project Management and Sustainability, Team Building & Community Engagement, Education Project Design,  Literacy Development, Practical STEM Education, Child Protection & Inclusion, and Fundraising & Social Entrepreneurship and Communication for Impact,. The Academy also explores well-being in social change, the power of reflection, and social leadership more widely.
The next Academy will be launched in April 2023.
The 10 month CLEd programme involves the following stages:
Application and interview process
Introduction to course, group and mentors (online)
Community needs assessment
5 Day Residential CLEd Academy
Ongoing mentoring from Peer Mentors (CLEd graduates)
Online group coaching sessions
Grant application process
Community visits
Documentation of impact
Presentations
Graduation
We will be calling again for applications to be part of the second cohort in December 2022.
We will be releasing our first impact report shortly – the impact of CLEd upon individuals and their communities has exceeded all expectations in the first trial.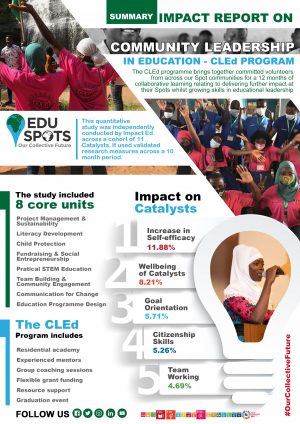 Joy News Report on the First CLEd Academy
Previous Changemaker Programme