With staff support from your school, we create a bespoke education project for students to work on throughout the year as part of a weekly community service programme, CAS project, or linked to the Duke of Edinburgh's Award.
Case Studies
Our EduSTEM, EduLIT and Youth Leadership Workshop programmes aim to improve practical science education, engage students in creative literacy challenges and advance students' leadership competencies. 
EduLit
In 2019 we started a literacy-focused community service placement at Sevenoaks School. As well as providing learning opportunities on literacy and international development, students worked with our Ghanaian Head of Literacy Development to produce Ghana-relevant phonics cards and literacy resources – and see these used in practice. They also worked with a Ghanaian illustrator to create a collaborative storybook based on local events – 'Kwame's Adventures' and support with design work and ideation for monthly literacy challenges (see below). 
EduSTEM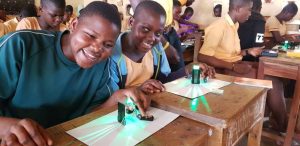 In 2019 we also introduced a STEM-focused project which enables students to learn about teaching and learning in the Ghanaian context directly from our Head of STEM. Students then created their own science experiment videos and resources using resources that could be found locally. Physics teacher, David Roche, said: 'As a teacher, I found the experience hugely rewarding, seeing the collaborative efforts of our students and students in Ghana come to fruition.'
Youth Leadership Camps
Students at Wellington College worked with the Ghanaian team to learn more about the context of the Spots, and consider strategies to build the leadership qualities of young people at the Spots, with a secondary aim to improve their volunteerism at the Spots, in support of their peers and younger students.
The 1 day 'Youth Leadership Workshops' were led by local volunteers including some alumni from African Science Academy, with activities funded by the Wellington students who helped to come up with elements of the ideas for activities, such as silent football, blind drawing, and tower building, which was combined with locally delivered talks on kindness and Spot leadership.
Following three trails in July 2022, we hope to continue to advance the resources to use this methodology for advancing youth engagement, volunteerism and leadership skills across our Spot communities.