Since its launch in December 2021, students have been immersed in heightened expectations at the beginning of each month as to what there is to explore in their quest to be critical and creative thinkers. 
Interestingly, these tasks are designed to be relevant to the local culture and context, thereby, promoting diversity through widened perspectives on a common theme. They also aim to promote teamwork, student leadership, creativity and critical thinking through project-based learning. 
"At least every month, all Spots have got something to work on. This gets us engaged. The challenge allows students to exhibit their literacy skills in different dimensions (both audio, drama and written). For volunteers, we're also exposed to various ways of carrying out literary works with our students." 
-Abdul Rauf (Volunteer, Metsrikasa). 
"We like the most creative challenges. We like making books become more alive through drama, drawing and dance. These challenges have made me improve my confidence in school. One day, I hope we can write our own version of Kwame's Adventures." (EduLit student in Atavne)
Coupled with funding for resources for the winning team/individual each month, participating communities are also rewarded scores on the literacy leader board which accumulates into an annual reward for the most excelling Spot. friendly competition helps to drive the whole network forwards! 
Certificates
All participants receive personalised certificates, with winners recognised and an ongoing leadership board. Sevenoaks School students design these as part of their service and partnerships engagement in the EduLit project.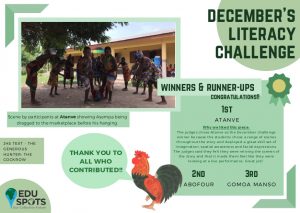 Compilations of Work
Students in Sevenoaks compile the work our communities create and display them in diverse forms. Here are some examples.