Every year we recognise Spots and volunteers through our Annual Awards Ceremony.
We were delighted that our Guest of Honour, Evans Odei, mathematics teacher at Achimota Senior High School, EduSpots Advisory Board member and Global Teacher Prize top 10 finalist was able to present the 2022 awards.
This year the ceremony was held at the De Georgio Hotel in Techiman, as the culmination of an inspiring 2-day conference for Project Leaders. The main focus points of training sessions were the areas of child safeguarding and protection, community engagement, fundraising, literacy development, and student-centred pedagogy. It is our hope that this will enable Spot Leaders to have the skills, knowledge and mindset to move their education spaces towards our 'Dream Spot Model'.
Spot Awards were determined on the basis of consistency across the year, with the EcoSTEM and EduLit Spot winners having participated in 12 monthly challenges across the past year, resulting in a 1000 Cedi grant to support their Spots. All Spots received a bookshelf of African fiction and local text books, as part of the end of our year of 'Bringing Africa to the Bookshelf.'
Those Spots who consistently engage in EduSpots' activities and continue to develop towards the Dream Spot model are considered as candidates for us to seek funding for further expansion support. If you might be interested in supporting one of our Spots with an expansion or resource grant please email Miss Cat Davison at info@eduspots.org or make a donation
here
.
Spot Awards 2022 
Spot of the Year: Kalpohin
School-based Spot of the Year: Sakasaka
Spot
Award
for Creativity and Entrepreneurship: Joska
EcoSTEM Spot of the Year: Elmina
EcoSTEM Spot of the Year Runners-up: Kalpohin (2nd) and Abofour (3rd)
Education Initiative of the Year: Akumadan
Runners-up: to be confirmed, need certificates.
EduLit Spot of the Year: Ejura
EduLit Spot of the Year Runners-up: Dichemso (2nd) and Sakasaka (3rd)
Spot Information Supporters of the Year: Dodome Awiasu and Dulugu
Volunteer Team of the Year: Gomoa Manso
Spot Fundraising
Award
of the Year: Akumadan
Volunteer Awards 2022
Congratulations to all volunteer award winners, and to all volunteers who look to drive change in their communities through education.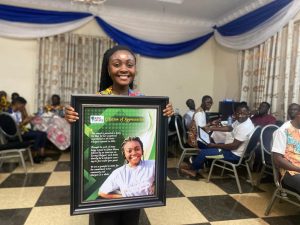 Volunteer of the Year, Ghana: Anita Esi Eleh (captured above, also receiving a citation for outstanding contribution to EduSpots for her role in securing network-wide funding)
Volunteer of the Year, UK: Sarah Davis
EcoSTEM Volunteer of the Year: Benjamin Eikins (Elmina)
EduLit Volunteer of the Year: Seidu Yahya (Ejura)
Youth Volunteer of the Year, Ghana: Musah Alhassan Baako (Kalpohin)
Youth Volunteers of the Year, UK: Anna Tarasheva and Delaney Kim (Sevenoaks School)
Junior Volunteer of the Year, Ghana: Saeed Hafsatu (Kalpohin)
Social Media Ambassador of the Year: Faad Abdul-Rahman (Sakasaka)
School Partners of the Year 2022: Sevenoaks School
International Student Group of the Year 2022: Wellington College Team
Congratulations to all Spot winners, and to all highly active Spots across the network!