The EduSpots Youth Change Makers
The EduSpots Youth Change Makers program provides a platform for impassioned youth to create the change they want to see in their communities whilst, in the process, honing their capacities to take on leadership roles in the future. Started in October 2018, the youth change makers program offers grants and mentoring to young women keen to lead an education project in their community.
This year's youth change makers are Aisha, Sharon Mega, Agness Lungu and Kasonde, all alumna of the Africa Science Academy and will be leading educational change in their home countries of Ghana, Ethiopia and Zambia through building a community library, leading an all-girls STEM summer camp and building a library/STEM centre respectively.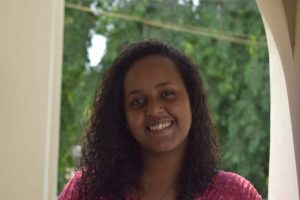 Sharon Mega, who will be leading an all-girls summer camp in Addis Ababa in August shares her excitement:
"I am happy to be part of the EduSpots family. I have amazing mentors with a variety of experiences and many other men and women passionate about impact just as I am. I am very excited to learn and have my project impact as many girls as possible."
Agness teams up with Kasonde to establish a STEM centre/ library, and says, of her motivation for the project:
"The first time I mentioned 'STEM' to someone, they thought it was a tree. So Kasonde and I applied for the change makers grant to fund and develop our project. We were awarded the £1000 grant which we intend to build a STEM centre/Library with."
Aisha is in the process of creating a library project in a building provided by a school in Yamfo.
Teacher Change Makers
But the Youth Change Maker grant is not the only opportunity provided at EduSpots for youth leadership. There is the 'teacher change maker' program, launched in May 2019. This program, in particular, looks for teachers who can not only create a sustainable impact in their own area but support people across the EduSpots network, implementing their ideas further afield. Our new teacher change makers are Kofi Antwi and Yahaya Seidu whose community libraries are at different stages of construction at Bono Manso and Ejura respectively.
"My project will focus on increasing students' literacy proficiency and developing a love for STEM through practical experiments," says Kofi.
Seidu also hopes that his project which is still under construction (below) will "provide an opportunity and easy access to a reading centre for Ejura school children."
We strongly believe that the leaders of tomorrow must ultimately be catalysts of change today. We look forward to providing our new youth and teacher change  makers with the support they need to create the change they want to see!