April 2021 marks the five year anniversary since EduSpots' UK registration. In just five years, a network of over 250 volunteers in Ghana and the UK have supported the creation and daily leadership of 42 education centres across Ghana and Kenya.
This network has impacted an estimated 15,000 library users annually, with over 250 schools engaged in the project in the UK and Ghana, leading to improvements in literacy levels, leadership capacity, STEM engagement and global understanding.
The EduSpots story started in Abofour in the Ashanti region of Ghana, with an aim to respond to the simple request from students for basic educational resources such as books, a quiet space to study, and consistent electricity. Dennis Wellings, the Head Boy of the Messiah International School, spoke powerfully about the power books gave him to became an independent learner, and at that moment a partnership and friendship between the Abofour Community, Cat Davison (a UK teacher), and Francis Yeboah (a Ghanaian driver) led to the multi-partner network that is today known as EduSpots. The first Spot was a simple library, housed within a school, but powered by solar and opened to all schools in the local area. Witnessing the huge numbers of students using the space to study in the evenings and weekends, motivated the fast growing volunteer team to create Spots in other areas.
Back in Brighton College, the first school partner of the charity then known as Reading Spots, a team of six students and three teachers, including Trustee, Paul Wilson, galvanised the school community to support through a stream of events, appeals and book collections. At the same time, students in both contexts were engaged in a critical form of global citizenship education, encouraging students to understand concepts of sustainable development and postcolonial thinking. Four online courses were written by the EduSpots team to engage students in advanced education in global development and social entrepreneurship, enabling students in the UK and Ghana to come together to read African voices and scholarship and respond to practical ethical tasks and exchange ideas. In 2018, Reading Spots won the Tes International Award, sponsored by the British Council.
In 2019, Reading Spots changed its name to EduSpots, enabling them to diversify their work beyond literacy education to wider forms of community-led education, including expansive STEM and leadership programmes, alongside EduLit literacy clubs. The partnership-based model for transforming education in both the UK and Ghana quickly spread, and today in 2021, EduSpots has schools across the UK and Ghana engaging in the project in different ways, supporting a network of 42 education centres across Ghana, Kenya, and Zambia.
Kalpohin: A Case Study
Picture Kalpohin, the location of just one of our 42 Spots in Northern Ghana which sometimes suffers regular periods of lights-out. The nearby schools have few reading materials, despite proficiency in English being central to every exam. Many parents are illiterate, and many do not value formal education, particularly for girls, whom can enter into early marriages.
Today, in Kalpohin, aspiration has risen. Wakil, a SHS volunteer, enrolled in our CLEd programme, gains leadership skills opening the solar-powered Kalpohin Spot, which is open until 10pm, with solar power providing free and stable electricity. A national service personnel opens the space in the day: 6 schools have access. One English teacher set up reading clinics, later becoming EduSpots' Head of Literacy. Community members have set up mentoring programmes and a science teacher runs a regular practical STEM club.

Partnership Projects
Students in Sevenoaks School UK have worked with Ghanaian community members and an illustrator to publish our first book, Kwame's Adventures, which is based in Tease. Alumni from the African Science Academy have been given grants to create Spots and run STEM camps on sustainable energy in their home communities, inspiring girls and boys to aspire to become engineers, working alongside Sevenoaks School students in the process, who supported the resource design whilst learning about the Ghanaian science context.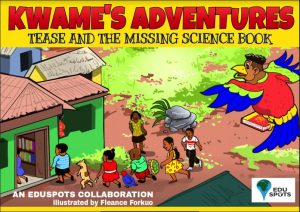 April 2021
This month, building on our previous network-wide conferences, EduSpots launched its first EduSpots Academy, which is a core part of EduSpots innovative new Community Leadership in Education (CLEd) programme that will equip 15 committed teachers, students and community members with the skills, insight and network needed to lead local change in their communities. The Academy will cover eight areas including project management, community engagement, child protection and inclusion, basic literacy development, education project design, fundraising and social entrepreneurship, communication, and STEM education.
Following the residential training, Catalysts will return to their communities where they will apply their learning to the management of their Spots and the delivery of education programmes. But they will not do this alone.  The programme provides a further 8 months of support and mentoring for each Catalyst from one of EduSpots' team of Leadership Coaches, to really help participants embed the Academy training in real life impact.
Volunteers across EduSpots network are excited about the next five years ahead, and encourage anyone interested in partnering with the organisation in any way to contact the Chair, Cat Davison, on cdavison@eduspots.org.