NB All photos used here were taken prior to the Covid-19 outbreak. 
From 6-10th April, EduSpots is launching its first 5 day residential training Academy, which is a central component of the NGO's innovative new Community Leadership in Education (CLEd) programme that will equip committed volunteers with the skills and insight needed to lead local change in their communities.
EduSpots, a UK and Ghanaian registered NGO, connects, trains and equips educational 'Catalysts', who in turn lead a network of 42 education centres or libraries, known as Spots, that EduSpots has built or supported since the organisation began in 2015.
18 Catalysts, from 15 different Spot communities, have been selected to take part in this very first CLEd Programme.  Each Catalyst has already demonstrated significant commitment to supporting the development of their community Spot and learning outcomes for local students. Participants range from Senior High School students, to teachers and community members. Engagement and problem-solving between different education stakeholders is central to the NGO's model for community-led change, and the mix of Catalysts on the programme reflects this.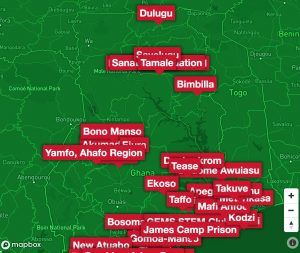 The CLEd Academy will cover eight areas including project management, community engagement, child protection and inclusion, basic literacy development, education project design, fundraising and social entrepreneurship, communication, and STEM education.
In addition to these, the group will also engage on strategies for learning, reflection and well-being, as well as working with their community members to put together personal and community-based development plans. The group will also enjoy a variety of entertainment and team building exercises, alongside a trip and a final night dinner.
Following the residential training, Catalysts will return to their communities where they will apply their learning to the management of their Spots and the delivery of education programmes.   But they will not do this alone.  The programme provides a further 8 months of support and mentoring for each Catalyst from one of EduSpots' team of Leadership Coaches, to really help participants embed the Academy training in real life impact.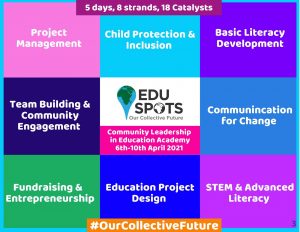 Gloria Addae, a volunteer in Abofour, Ashanti region, since 2015, said: "Knowledge is very resourceful. I'm glad CLEd is aimed at topping us up with more of that to steer our communities in that direction with their proposed activities. I know the impact is going to be great." 
EduSpots founder, Cat Davison, said: 'We have been running conferences for community volunteers since 2018, which have always played a valuable role in strengthening the rich relationships across our network; this Academy aims to offer an even more structured programme of training, that should equip our Catalysts to lead change in their communities, and throughout their lives. We hope this will be the first cohort of many more in the years ahead."
The Academy is hosted at EduSpots' Abofour project, which has just been significantly expanded, having been the location of the first Spot in 2018.  The Abofour library was commissioned in January 2021 and has four rooms for use by the whole community. The Academy has permission from local police, and all local Covid-related protocols and wider precautionary measures will be strictly upheld at all times.
In addition to EduSpots CLEd, STEM and literacy programmes, they also deliver global partnership projects with schools across the world, with their range of online courses on global development and social entrepreneurship growing in popularity. 
EduSpots won the UK 'Tes International Award' in 2018 and was shortlisted for the EDUCOM Ghana 'NGO or Business Contribution to Education Award' in 2020.
Anyone interested in offering funding or sponsorship for future CLEd cohorts, or collaborating on this or any of the NGO's other programmes should not hesitate to reach out directly to Cat Davison EduSpots Founder & Chair, at cdavison@eduspots.org