The EduSpots Community Leadership in Education (CLEd) Academy brings together 16 committed volunteers from nine communities in Ghana and Kenya for a 5-day intensive training in areas stretching across leadership, education and entrepreneurship.
The training aims to enable Catalysts to lead educational initiatives to address education challenges they are concerned about in their respective communities, building from community strengths and passions. The programme also includes guest speaker sessions led by Amjad Saleem and Evans Odei, and a team building to the Kintampo waterfalls.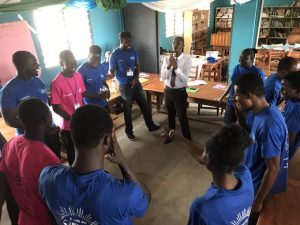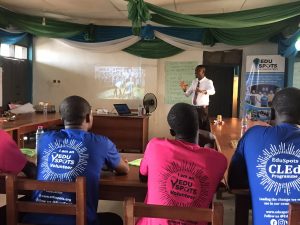 This is the start of a 10 month CLEd Programme, which combines the residential Academy with peer mentoring, monthly group coaching, the development and delivery of community action plans, and flexible grant funding.  The Academy is taking place in the community classroom at the Abofour Spot, the first Spot built by EduSpots in 2015.
The training covered the eight core topics such as Project Management and Sustainability, Team Building and Community Engagement, Education Project Design, Fundraising and Social Entrepreneurship, Basic Literacy Development, Communicating for Change, and Child Protection and Inclusion and Practical STEM education.
You can find out more about the Academy through this video:
Ahead of the CLEd Academy, this year we also included a day of intensive training for six peer mentors who successfully graduated from the CLEd programme last year. They have been matched with CLEd catalysts to support their journey through the programme and help them to maximise their impact in their communities.
The new Catalysts come from Abofour, Akumadan, Gomoa Manso, Kalpohin, Dodome Awiasu, Bimbilla, Metsrikasa, SakaSaka and Joska, with the peer mentors hailing from Elmina, Savelugu, Bimbilla, Akumadam, Ejura and Gomoa Manso communities.
Commenting on the programme, Adu, a Peer Mentor from Akumadan said:
'This training has enabled me to build further skills and understanding in how to effectively share my ideas and experiences to empower others through a mentoring relationship. Having participated in this programme, I will make sure that everything that I've learnt is applied to my conversations with my mentees, to enable them to solve problems that come their way whilst leading change at their Spots.'
Edward, a new CLEd Catalyst from Dodome Awiasu commented:
"Being part of the CLEd Academy has enabled me to learn to be creative and innovative in whatever I'm doing, to help me bring other people in my community on board with the project. I have become more tolerant and open to others' views, and it was very exciting to meet my mentor, Rahamatu, who had a lot of zeal and confidence. I hope to tap into her knowledge and skills to improve my community as well." 
This programme was sponsored by the Fonthill Foundation. EduSpots is grateful to all individuals and organisations that contributed to the success of this programme. Anyone interested in offering funding or sponsorship for future cohorts or collaborating on this or any EduSpots programme can email cdavison@eduspots.org for further information.