Launch of a Fundraising Year of Bringing Africa to the Bookshelf
In order to achieve our aim of enabling every Spot to have a significant African fiction and non-fiction section (which we envisage could cost £20,000, depending on the number of books on offer), we have launched 'a Year of African Books', following the Ghana Library Authority's launch of a Year of Books as their books for the year. Donations to this cause can be made here.
Through launching this as a fundraising theme, we hope to not only create further funding for purchasing African books in Ghana, and therefore supporting local authors and publishers, but we also aim to raise wider awareness of the importance of representation in literature, highlighting the value of students of all ages having books that mirror their worlds.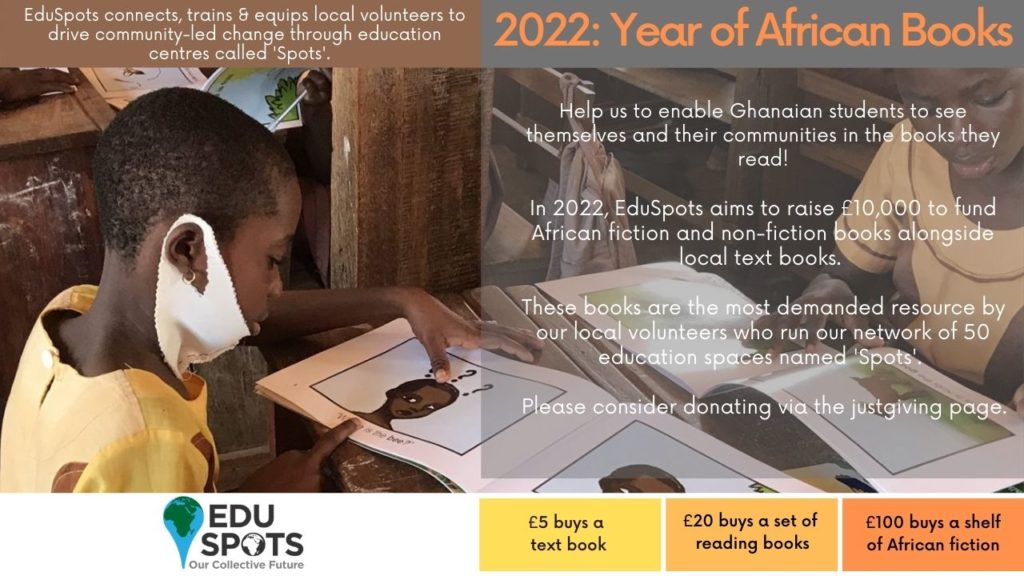 Linked to this aim, many schools have now aimed to ensure that books in their libraries and reading lists reflect a more diverse range of world views.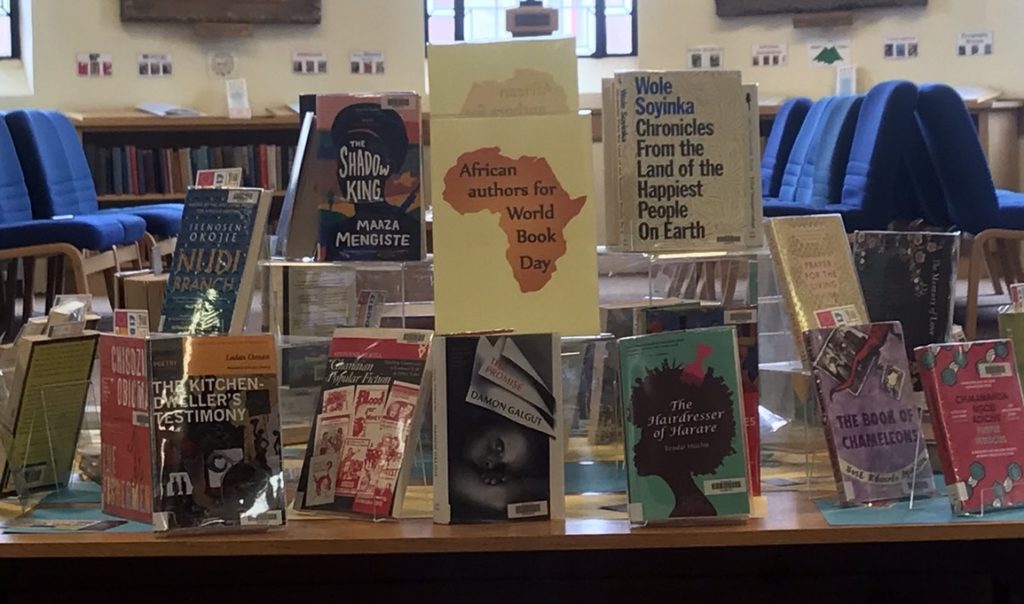 Book collections & Launch of University Ambassador Programme
As part of the 'Year of African Books' we have made the decision to postpone our UK annual book collection in 2022, despite being confident that we can fill a shipping container with high quality western books with support from our wider network of UK schools.
The reason for this is to instead aim to use the equivalent funding required to transport the books (the shipping container and port clearance costs add up to nearly £5000) to fund African books, purchased in Ghana. This will also support local authors and publishers, as well enable us to supply our communities with the books that they most often request.
It costs us about 15p (roughly 1 Cedi) to acquire one western book, whereas each African book will likely cost 15 times that amount. However, given that most of our Spots already have some western books, we believe that quality of literary engagement is more important than simply lining shelves with a quantity of books.
We have also decided to continue our book collections within Ghana, supporting communities with leading their own collections, as well as launching a new EduSpots university ambassador programme, bringing students across 5 Ghanaian universities to support elements of EduSpots' work, and building their leadership skills in the process.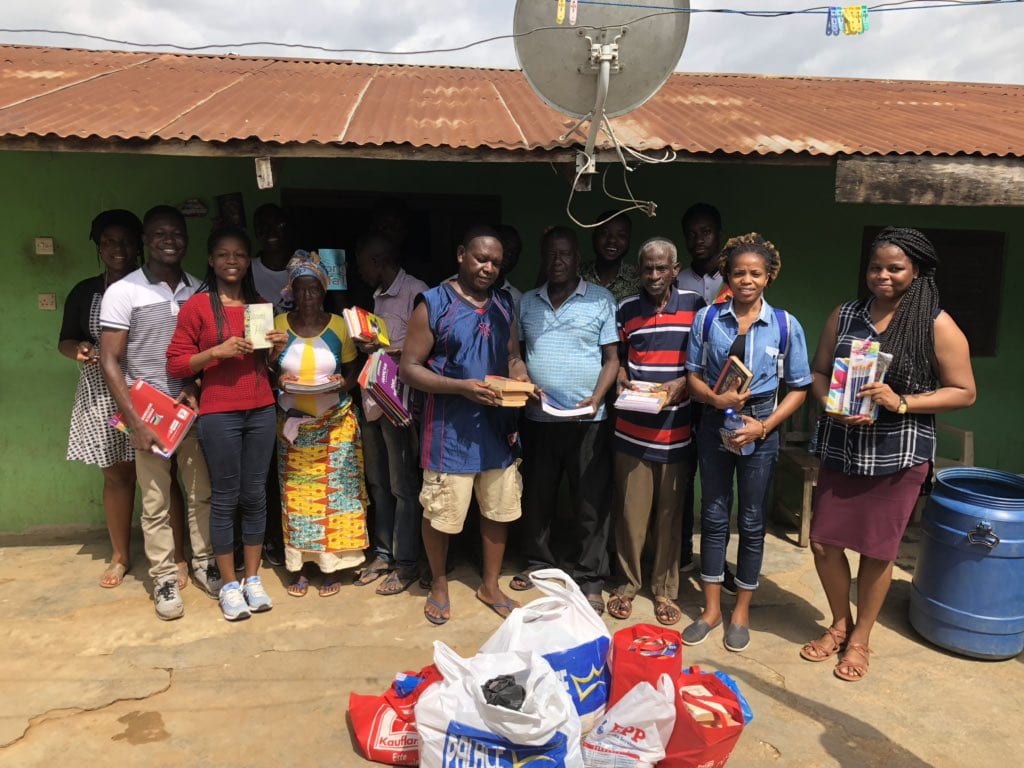 Kwame's Adventures
?'If we want to encourage pupils to read then we need to give them books that mirror their world and capture their interest, this is what the book does and I believe more of such initiatives need spreading."  (Project Leader, Kalpohin, Northern Ghana)
The key aim of this project was to enable Ghanaian children to see their own communities represented in fiction, creating a series of books with characters and events that they could relate, hoping that this will increase their interest in reading more widely.
The books were created collaboratively with communities, students from Sevenoaks School, and a Ghanaian illustrator, Fleance Forkuo, who offered the illustrations, which were based on photographs taken of the communities and the local volunteers. We were then able to print thousands of copies of these books at low cost. This has also allowed us to create literacy challenges relating to the books across through our EduLit programme which works across our Spot network.
? "I love the book because it talks about my community and this is the first time I am reading a storybook that mentions my community's name." (Child in Tease) ?
"As someone born and raised in the UK, the abundance of relatable literacy resources had never been a privilege I had actively recognised, however now I am able to recognise how literacy resources are dominated by western culture and it motivates me further to look into diversifying specifically children's literature.   (Student, UK)?
" When the pupils were told that the story was staged at Tease, their own community, the excitement and readiness of the pupils to read Kwame's adventures was amazing! Teachers too were eager to read and were surprised and happy to see Miss Alice feature in the story". (Teacher in Tease)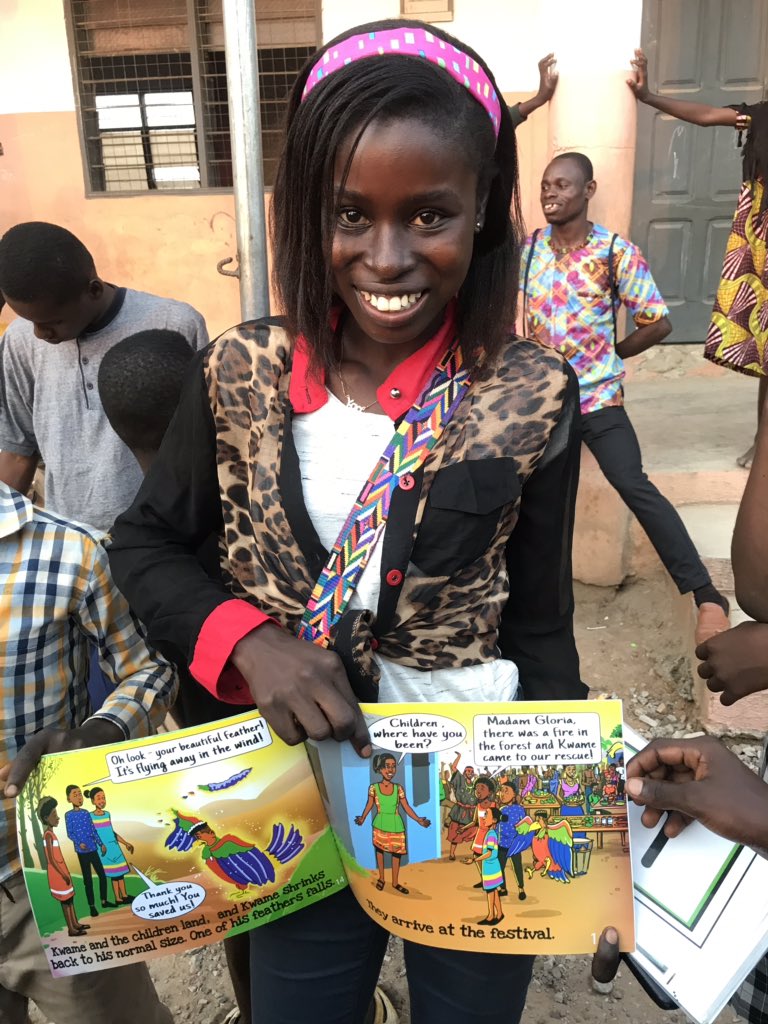 Involving the community leaders in the book launch was also vital, and observations revealed that this lead to an interest in reading across the community.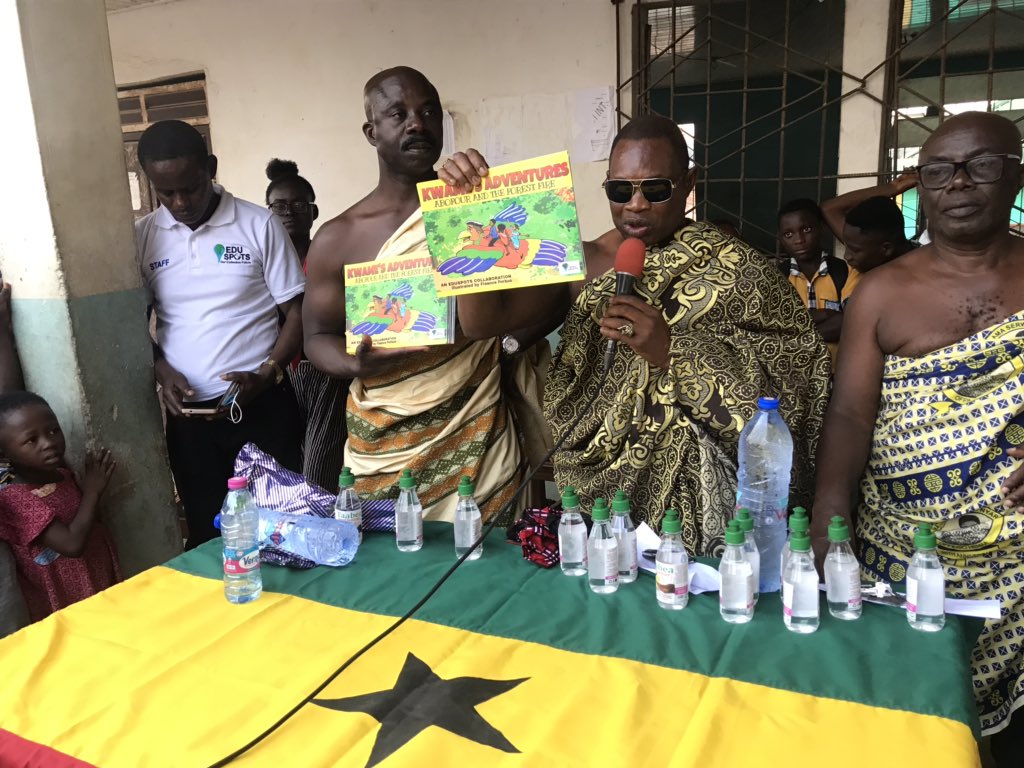 Phonics Resources
Further to this, students in the UK from a range of international backgrounds, created Ghana-specific phonics resources to replace the western dominated resources that were being used across Ghana. They worked with Ghanaian students and volunteers to find the words and images that they wanted to see in their phonics kits. This again worked to enable students to learn about representation through being engaged in an active process of change.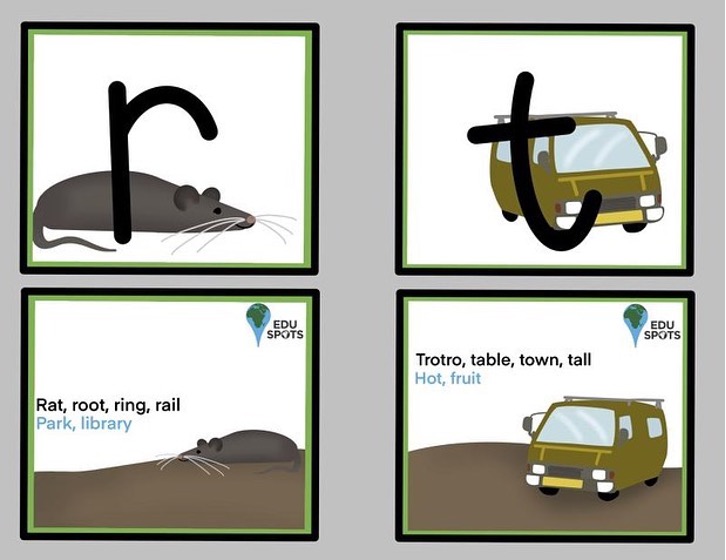 Monthly author talks
We have also launched a series of monthly talks from authors ranging from African fiction authors, to authors who write on topics relating to our work, spanning across development practice, citizenship and social leadership.
Our next session is with Christy Lefteri on the 16th May. with £5 requested as a donation towards African fiction books. A session in May. We'd welcome any recommendations of African authors who might be keen to lead a session.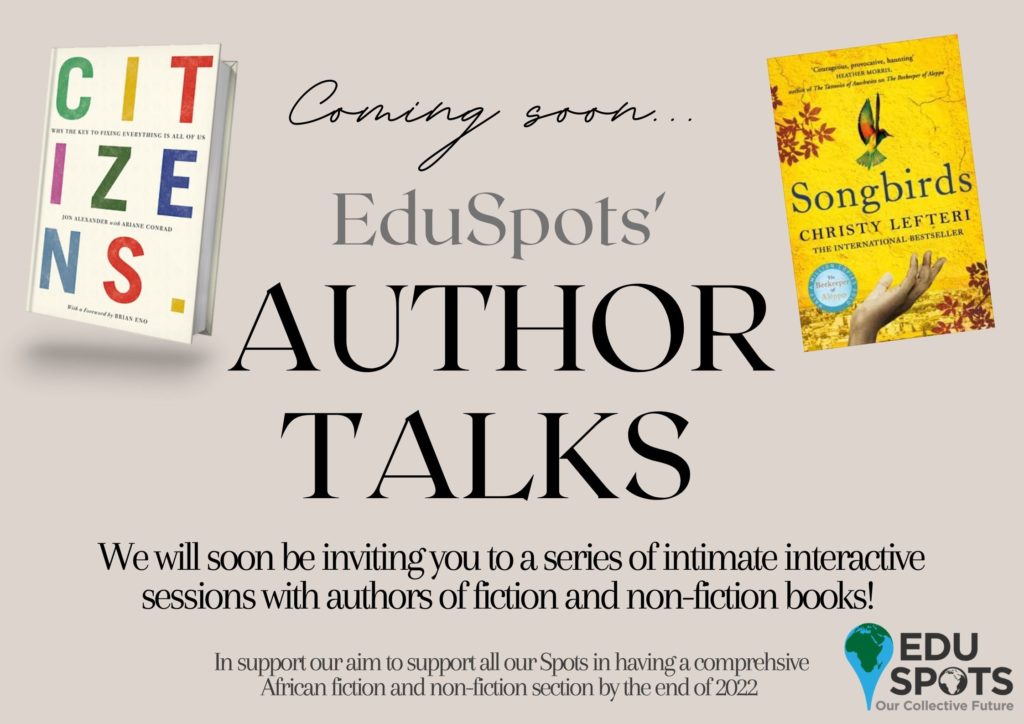 How can you get involved?
There are many ways that you can help. Firstly, you can donate to our African book appeal! It costs roughly £2 to buy one African fiction book in Ghana. This is the page for general donations, which you can also help us by sharing: https://www.justgiving.com/fundraising/eduspotsafricanbooks
Secondly, you can spread the word about these issues, and if you are creating resources of any kind, recognise that representation can have a significant wider impact on many diverse groups of people – with the scope of this discussion stretching far from a focus on African versus western fiction to championing further consideration given to educational resources to mirror the lives of people across the world.
Thirdly, do get involved with our events such as our monthly author talks, annual dinner and summer fundraising challenge. You can find out more about these by joining our mailing list here. We also have a range of volunteer positions available – do get in touch.
Lastly, you can tell us how to do what we are doing better – we are open to all ideas! Do reach out to me on cdavison@eduspots.org. We are particularly keen to hear from African authors, publishers and organisations and individuals who might be able to offer sponsorship for our work in this area.