We are happy to launch a book drive in Ghana spanning from NOW until January 2020. We hope to do this annually, with plans to collaborate with Ghanaian publishers and writers to purchase and receive some books.
WHY ARE WE ORGANISING THIS BOOK DRIVE?
The EduSpots Ghana book drive has become necessary as the majority of students in rural areas do not have access to textbooks, and thus turn to Edu 'Spots' to access study materials. Through the support of individuals and partners, we have shipped over 75,000 books to over 30 projects in Ghana and purchased about 5,000 African fiction. However, our 'Spots' are stocked with less Ghanaian textbooks and African fiction, and an increase in this genre will improve the learning outcomes for students in the communities we work with.
WHAT BOOKS ARE NEEDED?
We are in search of textbooks for all subjects at the Junior High School and Senior High School levels, as well as African fiction and personal development books.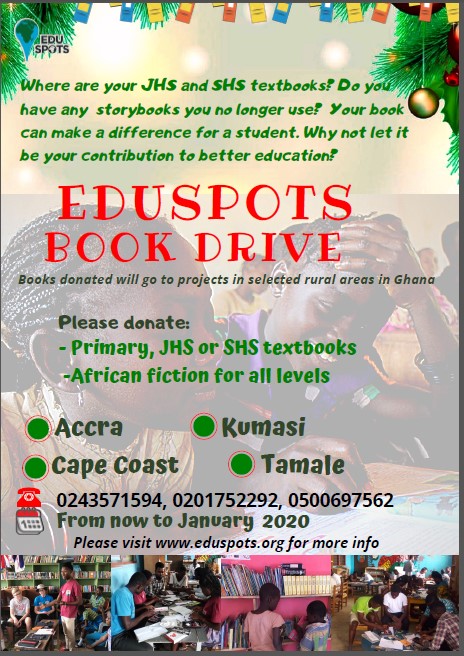 HOW CAN I SUPPORT THIS BOOK DRIVE?
No matter who you are and where you are, you can contribute to filling bookshelves across rural communities and increase students access to study materials. Consider one or more of the following:
Please donate a textbook or African fiction you or your family/friends have to set an example while you encourage others to do the same.
You can visit BOOKNOOK Store to purchase a book directly and pay with mobile money, PayPal,World Remit or Wave or through a Bank Transfer.

All purchases for the Eduspots Bookdrive on Booknook will get free delivery as as well as 5% discount.
Use the code eduspots at checkout to utilise a 5% discount and free shipment.
Use shipment address:

Francis Yeboah
Eduspots Bookdrive
Accra, Ghana

Lead a collection in your community. We have collection points in some cities and would be happy to add more. Can you reach out to schools, churches, mosques, associations and individuals in your community to spread the news and get some books? We are happy to support you with posters, boxes and ideas.
Publicise the book drive! Share the flyers on your WhatsApp groups and status, Facebook, Twitter, Instagram, etc. Kindly share the posters and use the hashtags #eduspotsbookdrive, #kumasibookdrive (dependent on your location) to let your network world know about and support the initiative.
Know any individual or establishment in Accra, Kumasi, Cape Coast or Tamale who can help? Connect us to that person, or get them on board.
You can donate towards the purchase of a textbook or storybook using our Just Giving page, Mobile Money number 0540500282 (Eric Senoo, use Book drive as reference) or Bank transfer (EcoBank, Osu. A/c no. 1441002223290)
"One child, one teacher, one book, one pen can change the world." – 
WHERE CAN I DROP BOOKS?
The 2019 #EduSpotsBookdrive is a collection happening in and around four metropolitan assemblies in Ghana: Accra, Kumasi, Cape Coast and Tamale.
You can drop books at:
Accra 
Pippa's Fitness Centre (Partner), 5th Ringway Link, Ringway Estates, Osu (0302224488)
University of Ghana main campus, Legon (0509494150, 0541677031)
Ashesi University campus, Brekuso (0560980583)
Academic City, Haatso (0508890169)
Central University, Miotso campus (0509909667)
Tamale
Active Youth (Partner), University for Development Studies, Dungu – Tamale (0242691461)
HOPin Academy (Partner), Yaa Musah Building, Gumbihini (0504987356)
Diamond FM (Partner), Lamashegu (0268636665)
Sakasaka JHS 'B' (0244025007, 0543272482)
Anglican JHS, Kalpohin (0246183997, 0200985863)
Kalpohin Kamaria JHS (0247811223, 0545510351, 0540744127)
Ghana Senior High School, (0541374804)
High Standards School Complex (054 6627734)
Cape Coast
University of Cape Coast (0265710078, 0241132560)
Kumasi
We are still looking for individuals or groups that can lead or support the book drive at Kumasi. Call 0201752292 if you live in Kumasi and wish to support.
The EduSpots book drive is being led by inspiring young leaders and supporters in and outside the EduSpots network. We welcome ambassadors to add to the collection points or lead a collection in the community, school or workplace. Kindly call 0201752292, 0243571594 or email info@eduspots.org for any enquiries. Our collective efforts for #OurCollectiveFuture
#EduSpotsBookDrive