"Before the camp, I did not like science and maths,I thought it was boring and difficult. Now, I love it because I have learnt it can be fun". (Nadia, Sanzule)
Following a successful pilot of the STEM summer camp, themed, "STEM for a Sustainable Future," we are glad to report the full scale replication of the camp in three communities, so far.
The camps were designed collaboratively by the Ghanaian EduSpots team and volunteers and ASA alumnae, with a focus on practical STEM education using locally found resources and building students understanding of environmental sustainability, relating to issues in their local environment and communities. Students at Sevenoaks School also helped with the design work on educational resources, whilst learning about the Ghanaian science context and sustainable community-led development.
The camps have been partly strategically designed to normalize female leadership and encourage girls to pursue STEM careers. Many of the camps are fronted by alumni of the Africa Science Academy who share stories on their own STEM journeys to encourage younger girls looking to pursue STEM. We also aim to bring schools together in communities, enabling students and teachers to collaborate in education. 
CAMP ACTIVITIES
All the three, ten-day long camps started with participants being introduced to climate change and how STEM can contribute towards reconstructing our ecosystem.  Students were then taken through core STEM concepts.
Following these practical, introductory sessions, participants were taken through the key sectors of the global economy contributing to climate change such as energy, transportation, and the fashion industry.  In these sessions, students built prototypes to demonstrate low-carbon alternatives such as wind mills. Project leaders of each of these camps also carried out projects that were unique to their community. Additionally, participants in the camps had the opportunity to visit certain factories and facilities in their town to have first-hand experience of the use of machinery and technology and speak to people working in different STEM industries. 
This video created by students and teacher volunteers at the Sanzule Spot explains more. This community combines students from Sanzule with those in Krisan, a local refugee camp. Students attending the camp included refugees from countries across the world including Sudan, Congo and Togo.
PARTICIPATING COMMUNITIES
Two schools in Gomoa Manso have participated in the STEM camp. Anita, an EduSpots volunteer and student at Africa Science Academy who champions STEM in the community, has named this camp the Exploit STEM camp. She believes "for most of the pupils, this is their first time doing science experiments and proving concepts, they are going to do exploits". Lily, a pupil in Gomoa Manso who participated in the camp says that " the STEM camp has helped me to learn how to protect the environment by recycling old products to build new ones."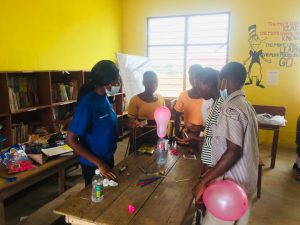 In Sanzule, three schools have participated in the camp. Bashiru Yahaya , a volunteer from the Sanzule spot has shared that "the community has taken the STEM camp seriously because there are companies and factories around and they always have to hire people from outside the community. They want to encourage more people from their community to do STEM so that they can work in these places".
Mr. Benard Muah, The district coordinator for STEM in Sanzule also participated in the camp as a way of encouraging the pupils to not be afraid to venture into the sciences. Nadia from Sanzule explains that "before the camp, I did not like science and maths,I thought it was boring and difficult. Now, I love it because I have learnt it can be fun".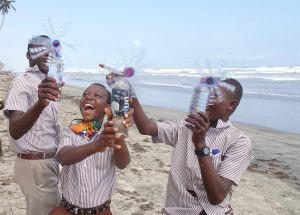 In the STEM camp at Savelugu, pupils from 5 schools have also participated. Nimatu, who leads the project in Savelugu, planned a visit to the Shea butter factory for the participants. Since Shea butter is a staple in the region, the pupils were keen to learn how it is made. Prior to this visit, many of the participants had no knowledge about the use of technology in shea butter production. Nimatu says that the pupils "were happy with the activities and requested for more science practicals".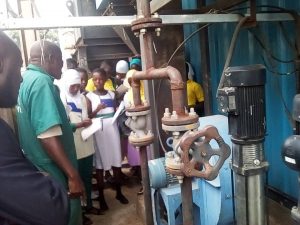 Judging from the positive response from communities and participants of the camp, and our impact evaluation to be shared shortly, we are excited about the growth prospects that the camp has had and are eager to scale the same to other communities. A fourth camp is due to take place shortly in Zambia. 
We are grateful to the Ashworth Charitable Trust for their sponsorship of the STEM camps this summer.