Congratulations to Anita Esi Eleh who has won a $5000 grant from the
Global Youth Mobilization
and their partners, after taking the initiative to apply for the opportunity when posted on the EduSpots WhatsApp feed.
The funding will allow 300 pupils in Gomoa Manso access to computers and internet connectivity to improve enrolment which fell due to COVID19, support pupils acquire digital skills, allow IT instruction to be practical, and connect mentors and young pupils for periodic mentorship sessions.
Volunteers in Gomoa Manso will run a summer computer literacy programme for 30 pupils, hold virtual mentorship sessions with pupils and embark on a back-to-school outreach to encourage pupils who have dropped out to enroll back to school.  They look forward to encouraging more pupils to graduate from higher levels in education as they want to feed their curious minds, explore the world and make impact with knowledge and exposure gained.
Global Youth Mobilization is a movement of young people taking action to improve their lives now and in a post-COVID-19 world. Supported by the world's largest global youth organisations, World Health Organization, and United Nations Foundation, Global Youth Mobilization aims to address the negative impact of the pandemic on young people and support them to build back better. There are an estimated 1.2 billion young people impacted by the COVID-19 pandemic response measures. Disruptions to education, employment, services and social support have changed the future of an entire generation.
On receiving the grant funding for her community, Anita commented:
"I must say I'm super excited for this platform given to me; the platform to impact, touch and transform lives. Having my education from high school through A-Level and to tertiary sponsored, I understand what it means to make educational provisions available to the one who lacks it. I owe God, Camfed, MasterCard, ASA, EduSpots and the world at large a group of empowered leaders  and that is exactly the road I'm threading on. I look forward to bridging the gap in education at Gomoa Manso by creating an environment that captures their interest for a better education delivery. One thing I know for sure is that the rising of Gomoa Manso is golden. Watch this space…. to #OurCollectiveFuture."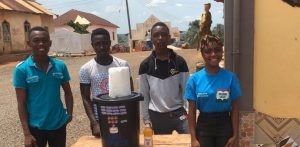 Anita joined EduSpots in 2019 when studying at African Science Academy, after winning a grant for her female empowerment project 'Everybody Matters' which aimed to reduce teenage pregnancy in her area by increasing aspiration. Since this point, she has reinvigorated a library in her old school, bringing together a team of local volunteers to lead literacy and empowerment clubs, alongside our EduSpots STEM for a Sustainable Summer camp this August. During Covid, she organised a sanitation station and awareness point in her community.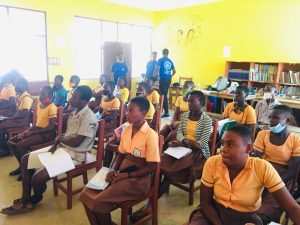 The entire EduSpots network sends their congratulations! You can read more about her remarkable work and the Gomoa Manso community
here
.