The core of our work at EduSpots hinges on our volunteers- our local changemakers making all the difference in our Spot communities. For this reason, we take time to acknowledge them monthly.
For December 2022, we have three amazing individuals we want to celebrate who have contributed immensely to our work. Meet Vicky, Janet and Habibata our recipients of the Volunteer of the Month Award (December 2022 edition).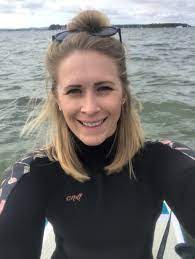 Vicky Royle
Vicky Royle is an English teacher in the UK who is passionate about education. This passion was kindled when she went voluntarily to Tanzania 13 years ago as part of a gap year trip. She was initially shocked to see a huge number of students out of school. Seeing and learning about how education had the power to change lives made her passionate about it and she's been on that trajectory ever since. Currently she holds a master's in Education and International Development.
Vicky joined EduSpots because of the volunteer model which had a Ghanaian voice at its heart, a clear community focus and the reach the Spots had in their communities as a result.
Ever since she joined EduSpots in September 2022, Vicky has been an asset helping with researching current educational trends and statistics in Ghana, working on the annual report, and programme and strategy design.
Vicky is motivated by the thought of making a difference in people's lives no matter how big or small. She loves adventure sports like paddle boarding, kayaking and indoor rock climbing. She also likes to travel and see new places.
In the long term, Vicky plans to leave the classroom and focus more on developing educational programmes with focus on teacher training and development.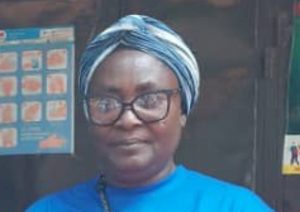 Janet Owusuaa Karikari
Janet is an English teacher with a diploma in Basic Education and a degree in English from the University of Cape Coast. It had always been her dream to teach and she has been in the teaching field ever since she completed schooling.
Janet came into contact with EduSpots when she relocated to the Northern region of Ghana. Her husband was transferred to Valley View, Tamale campus and her, Sakasaka Junior High School. At the time, she met Afua and Ben, Teach for Ghana Fellows who introduced her to EduSpots. The duo had applied for a grant from EduSpots (then Reading Spots) to support a library which was their capstone project. Janet was passionate about improving literacy at Sakasaka and seeing that Afua and Ben had the same passion, they worked together to build the library as well as engage the students in literacy activities to improve speech and writing.
What grounded her interest in volunteering in EduSpots was the exposure she gained by attending the 2019 EduSpots Annual Volunteer Conference. Here, she interacted with many like-minded volunteers from across the country and was continuously motivated to ply the path she had chosen. She was also able to tap into the network and maximize the resources available in the network.
Janet believes in making learning practical and employs dramatization in teaching English. This helps to boost confidence and develop interest in learning. She is married with three children and loves to read, watch television and spend time with God.
Habibata Yakubu Iddrisu
Habibata Yakubu Iddrisu is a CAMFED scholar who studied Nutrition at the University of Development Studies, Tamale Campus. While in the university, she was constantly being trained by CAMFED, and during these trainings, she developed the desire to give back to society. This led her to join the Lead for Ghana Fellowship; a teaching fellowship that is geared at increasing educational equity in underserved communities in Ghana. She was posted to Sakasaka Junior High School and was introduced to EduSpots by Madam Janet, an EduSpots volunteer.
Habibata found the EduSpots community- led module attractive and joined because it allowed her to effect change beyond her school and community; she had the chance to improve literacy in other students from other schools and communities who use the Spot. Through the Sakasaka Spot, she has engaged over twenty students in literacy programmes which have boosted confidence. She also led her Spot patrons to partake in school competitions where they have performed beyond expectations.
She is constantly motivated by her love for the children who use the Spot and the knowledge that she is a change maker bringing smiles to the faces of her Spots users.
During her free time, Habibata likes to learn new skills from YouTube and people. Habibata's philosophy of life is "to give everything your best and do every work like your life depends on it". In the near future, she envisions herself continuing her impact journey in the role of a lecturer.