Conference Theme: Community-Led Action, Building Social Leaders
Written by Getrude Akunlibe, one of our youth change makers (from 2018-2019) and founder of the Dulugu 'spot' in Bolgatanga 
The second Reading Spots (now "EduSpots) Annual Conference was a success, hurray!! The conference which took place in De Georgia's hotel, Techiman started with Eduspots Chair Miss Catherine Davison, and the Operations Manager, Francis Yeboah, welcoming over 90 participants from 35 communities across 8 regions of Ghana.
We started with insightful talks from a few representative of our EduSpots volunteers. Miss Yvonne briefed us on a mentorship program she runs in Kalpohin, Tamale EduSpot. In answering the question of why she dedicated so much time, effort and resource to mentor this young girls at kalpohin, she reminds us that if she one day become a boss she would have to hire workers.  She will expect this workers to deliver up to her expectation and if this workers so happen to be the generation she mentored, worrying about incompetence will be a thing of the past.
In addition, we had a session from Miss Portia on how to fundraise as a community which led to thought-provoking questions on societal problems. EduSpots is a non-profit organization and as such we encourage sustainable initiative which encourages communities to explore ways to support themselves with all ongoing costs of the projects, thus truly enabling community members to take total ownership of the projects.
We had a number of activities led by EduSpots management team, such as those focused on the new EduSpots strategy and leadership insights, being an impactful volunteer, and acting to improve our community environmental impact, looking at the activism of Greta Thunberg, after exploring the science of climate change. After these sections, we each pledged one thing we committed to doing as a volunteer in 2019-2020 on any social media page with the statement "#Eduspots #ourcollectivefuture". Thereafter, our new name "EduSpots", to represent our diversified focus shifting from literacy to the inclusion of STEM, environmental and leadership programs, was launched in place of "Reading Spots".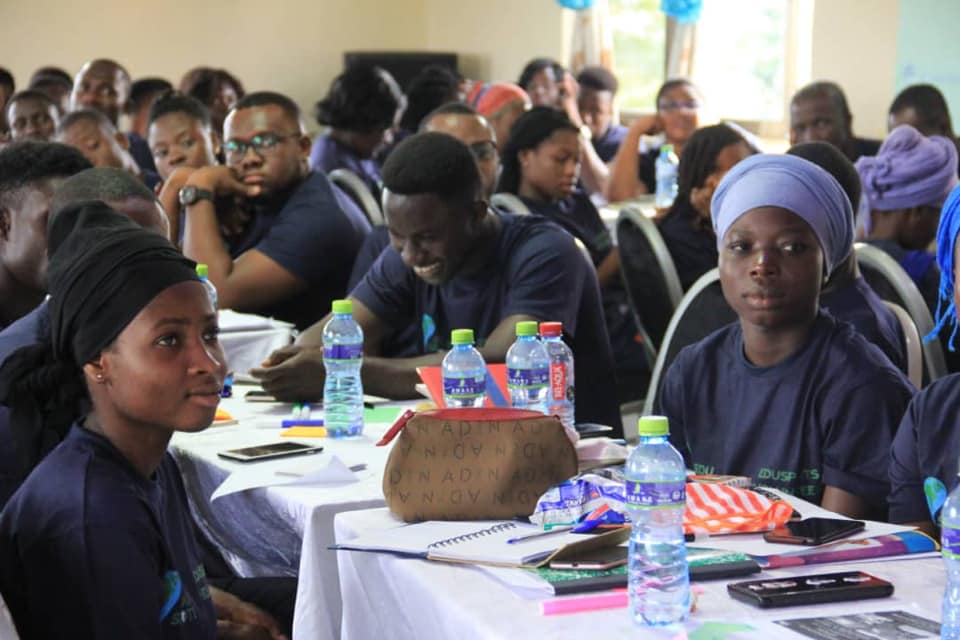 Miss Claudia Vyvan a United Kingdom (UK) pupil representative who leads book drives and fundraising events for EduSpots shared her EduSpots story highlighting her expectations and experiences in the Ghanaian society and also helped break down some stereotypes of the UK by telling us how she worked as a housekeeper and applied for grants to come to Ghana to learn more about EduSpots.
A Ghanaian author and publisher, Nana Aware Damoah, in demonstrating how to make students attracted to reading during a storytelling for change session, read three interesting stories from three different books. He gave great insights of how to write well. He mentioned the importance of writing about one's area of interest as a beginner. He gave tips on writing and under 10 minutes, volunteers where able to come up with great short stories, including one focused on the moment a young child came across a solar panel for the first time!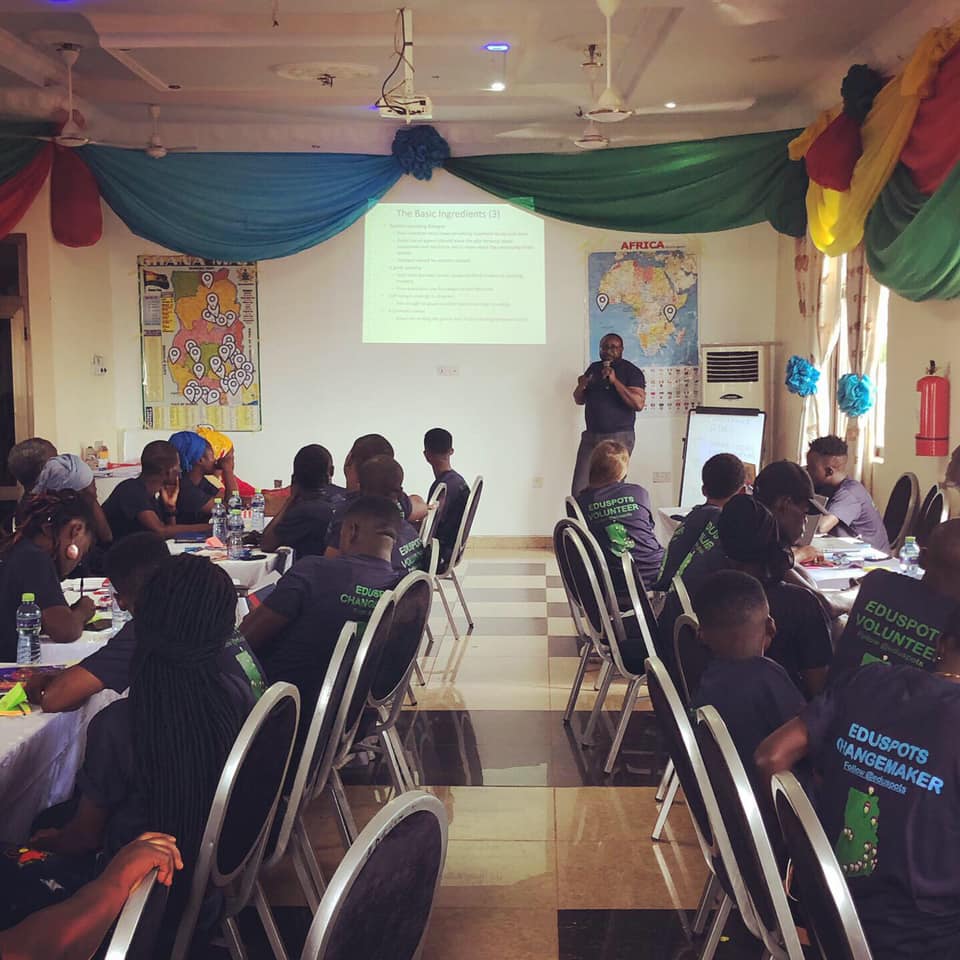 We had Hajia Mariama Abdulai David, the Executive Director of Shikina clinic for the poor and destitute in Tamale which have been running for the past 25 years talk about leading social change and tackling challenges. Her reactions to life challenges were indeed incredible and as she talked about how she putted herself in school at age 14, dared to over step boundaries and how she was able to rise even stronger whenever she fell, left me energized to achieve my dreams regardless.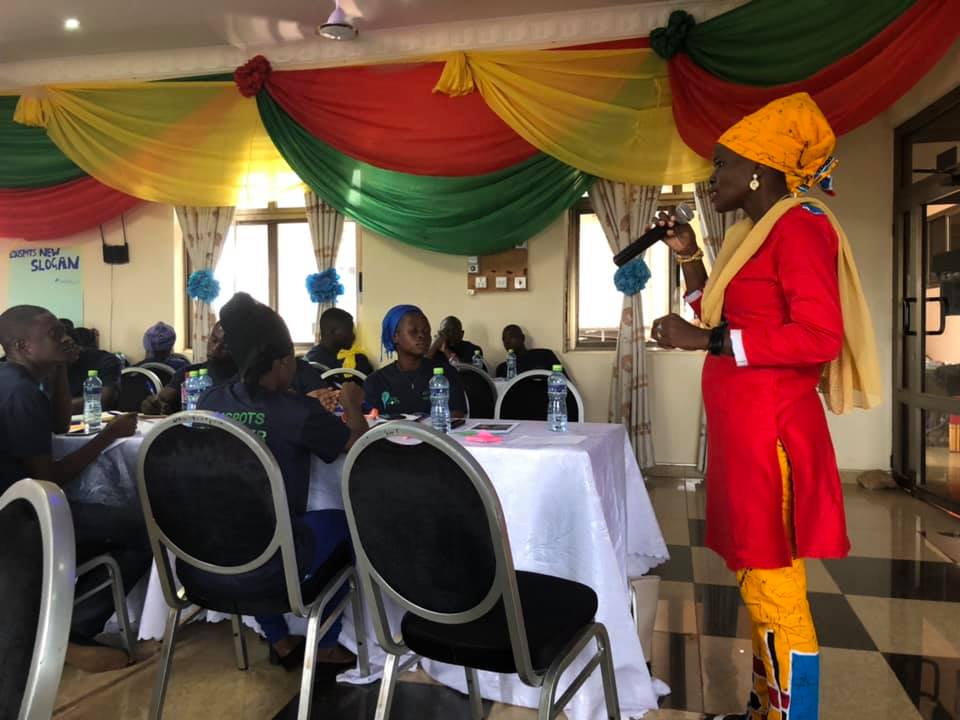 We had our first 'Education Initiative of the Year' competition whereby 8 community leaders pitched their educational strategy to gain 500 cedis of funding, before the whole room scored the projects in accordance with their sustainability, social impact, community impact and creativity. The winner was Akumadan for their pitch to use the funding to extend their community drama club which explores and addresses social issues through drama.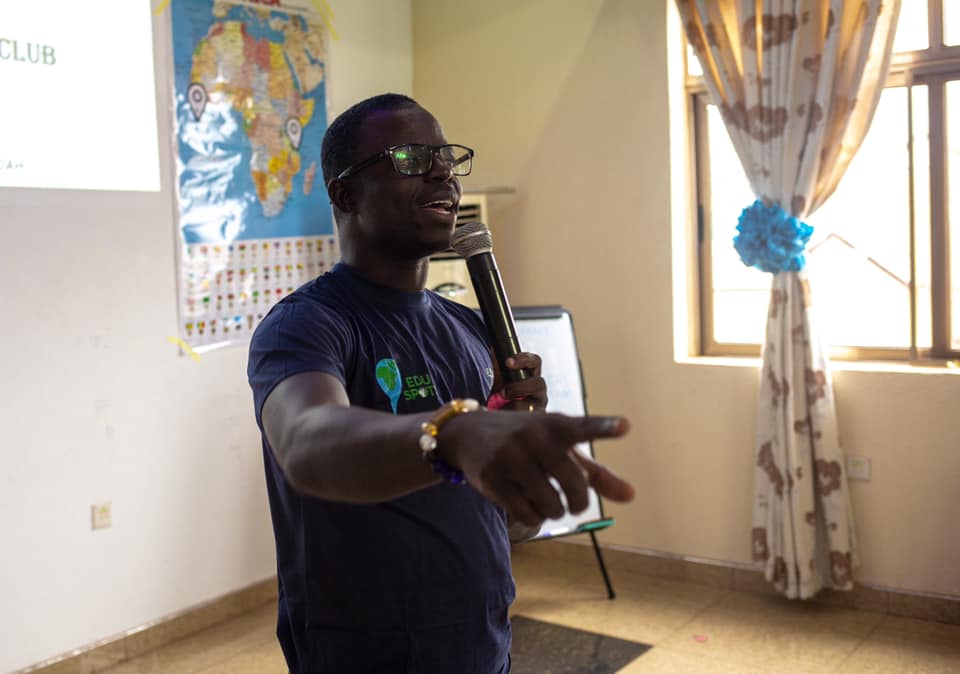 EduSpots is a community-led organisation so it is pertinent that we had inputs from various projects throughout, and the sessions culminated with community groups brainstorming ideas for the future of their spot through creating a 'community action plan' also giving feedback to the organization.
The day was climaxed with an award dinner party. The room was full of life with everyone rocking their African wear. Over 20 communities and individuals in both UK and Ghana were awarded during the ceremony. Our ever passionate, selfless and committed volunteer of Akumadan, Adu Carlos was recognised as Ghana Youth Volunteer of the Year 2018; Kalpohin took the award for 'spot' of the year 2019. The ceremony was brought to an end by our Operation Manager, Mr Francis Yeboah.
It was lovely to see people who saw themselves for the first time, engrossed in conversations and finally giving themselves hugs as they depart back to their various communities. EduSpots does not only create literacy by empowering a network of community change makers but avail a platform for one to develop themselves wholly through various activities ranging from youth summits, conferences, and providing resources amongst the immense of value of the network between communities that has been created.