We warmly invite you to join us in Hotel du Vin's beautiful dome room in Brighton for our fourth annual dinner in celebration of the work of EduSpots.
It was the venue of our first fundraising event in 2016, so we thought it would be symbolic to return, three years and 40 'EduSpots' later.
When? 
22nd February, 7.30-11.00pm
How?
Tickets are £65 each or £600 for a table of 10.
Email info@eduspots.org to book your ticket before they sell out! Do let us know if you have any particular dietary or seating requests.
Why? 
Come to enjoy fine food and wine, enjoy great company and entertainment, and hear about our new direction, and the work of our network of over 300 educational catalysts.
Where? 
Dome Room, Hotel du Vin, 2 Ship St, Brighton BN1 1AD
What?
Champagne on entry, three course meal, 1/2 a bottle of wine, and tea & coffee.
Entertainment, raffle, and auction
Do contact info@eduspots.org if you are able to provide any auction or raffle prizes.
Dress Code? 
Black tie and /or Ghanaian dress.
Guest Speaker? 
Stephen Tettegah, our EduSpots Head of Education and Leadership Development in Ghana
Stephen is an inspirational young educator, who we first joined up with via Twitter and a few boxes of books before we supported him and his community in Kalpohin in creating an EduSpot. After completing his fellowship with Teach for Ghana in summer 2019, Stephen joined the EduSpots team.
He was recently recognised with the Ghana Educational Community's (EDUCOM) award of 'Most Inspirational Teacher' in Ghana. Certainly, you will gain a great understanding of the young leaders the EduSpots network is designed to support, hearing directly of the impact of the work of the vibrant EduSpots volunteer team upon Kalpohin, a rural superb of Tamale in Northern Ghana, a community with limited electricity, sanitation and educational opportunities.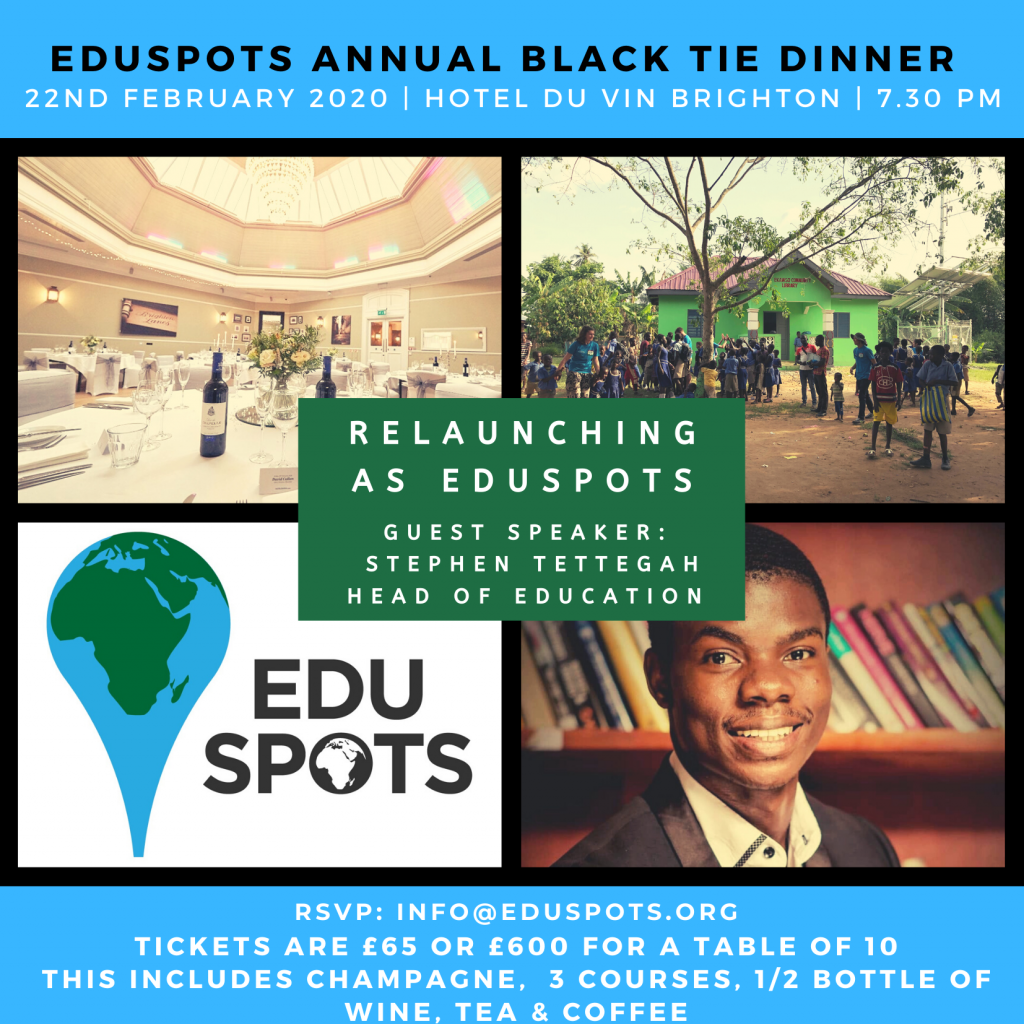 The Kalpohin 'EduSpot' at night time, the project Stephen led: