On Saturday 13th November, the Elmina volunteer team organised their first STEM exhibition, involving students from three schools in the local area.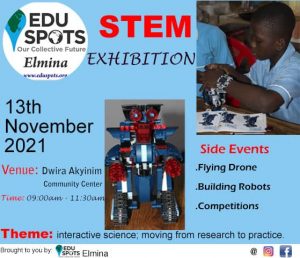 Benjamin Nana Aikins, who led the event, is a local teacher enrolled on the EduSpots Community Leadership in Education (CLEd) programme. He commented:
'The idea was to market Eduspots to the communities around and also to showcase the projects done by the children who use the Spot on a regular basis. In this event, we displayed their work done across the past few months and explained to the parents and children in the area a little more about what EduSpots is, what volunteering is and the importance of the Spot to the parent and the child.'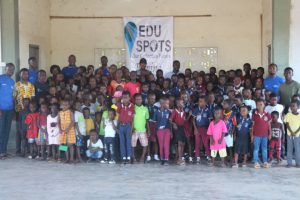 There were three schools present: Amen International School, Adom Preparatory School and Pershie/ Dwira Akyinim M/A School. The Youth Chief (Mbrenteehene), the Queenmother, as well as some leaders of the community graced the occasion.
The kids were taken through some interactive science lessons and were ask to practice what they learnt. Later there was a robotices competition after which the winners was presented with some stationary and some cash.