An interview with our Ambassador of the Month for January… Abdulai Abdul-Rajim at the University of Development Studies. 
How would you describe your experience so far as an EduSpots University Ambassador?
As a university ambassador, the experience has been an amazing one because it comes with a lot of benefits and life coaching skills, communication, knowing of importance of working as a team.
The most important part is knowing the importance of integrating the community whatever that we are doing to ensure our collective future, so the experience has been an amazing one.
What are some of the benefits you've gained?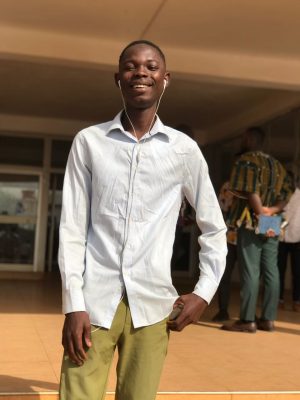 The benefits that I get from being an Ambassador have a very wide range, but the most common one that I want to talk about is the chance to participate in EduSpots free online courses, Ignite sessions, listen to stories of prominent leaders who are trying to achieve what I'm trying to do. It has been a motivation and it helps me build social skills such as communication skills, how to interact with the masses or the public and a lot of other stuff. So the benefits I'd say are big so I would encourage everyone to help along as we do this together.
What impact are you looking forward to creating?
What I look forward to do more of as an Ambassador is to work hand in hand with all of you, the leadership and also the volunteers of EduSpots, the organisation, to continue to raise awareness about whatever we are doing. It's actually an important step to invite more people to join us as we work towards #OurCollectiveFuture – for our social media and personal interactions with pupils more participation of empowerment sessions and more engagement of people in our online courses.
What expectations should you have?
You should expect to be working with people who are very like-minded such as myself, people who are passionate enough to carry on the activities of the organisation, and people who are willing to do all that is necessary to raise the level of awareness that is expected from our scene. So to expect nothing but the best of the best.
So, how can you sign-up to EduSpots' Ambassadors Network?
Simply register at the following links: