Following requests, we have created courses that help to take community service online during the coronavirus outbreak.
We hope to bring students and community leaders from across the world together to learn about and discuss community and developmental action during COVID-19. This document gives a comprehensive summary and curriculums:
EduSpots-Online-Service-Courses-Summer-2020-Updated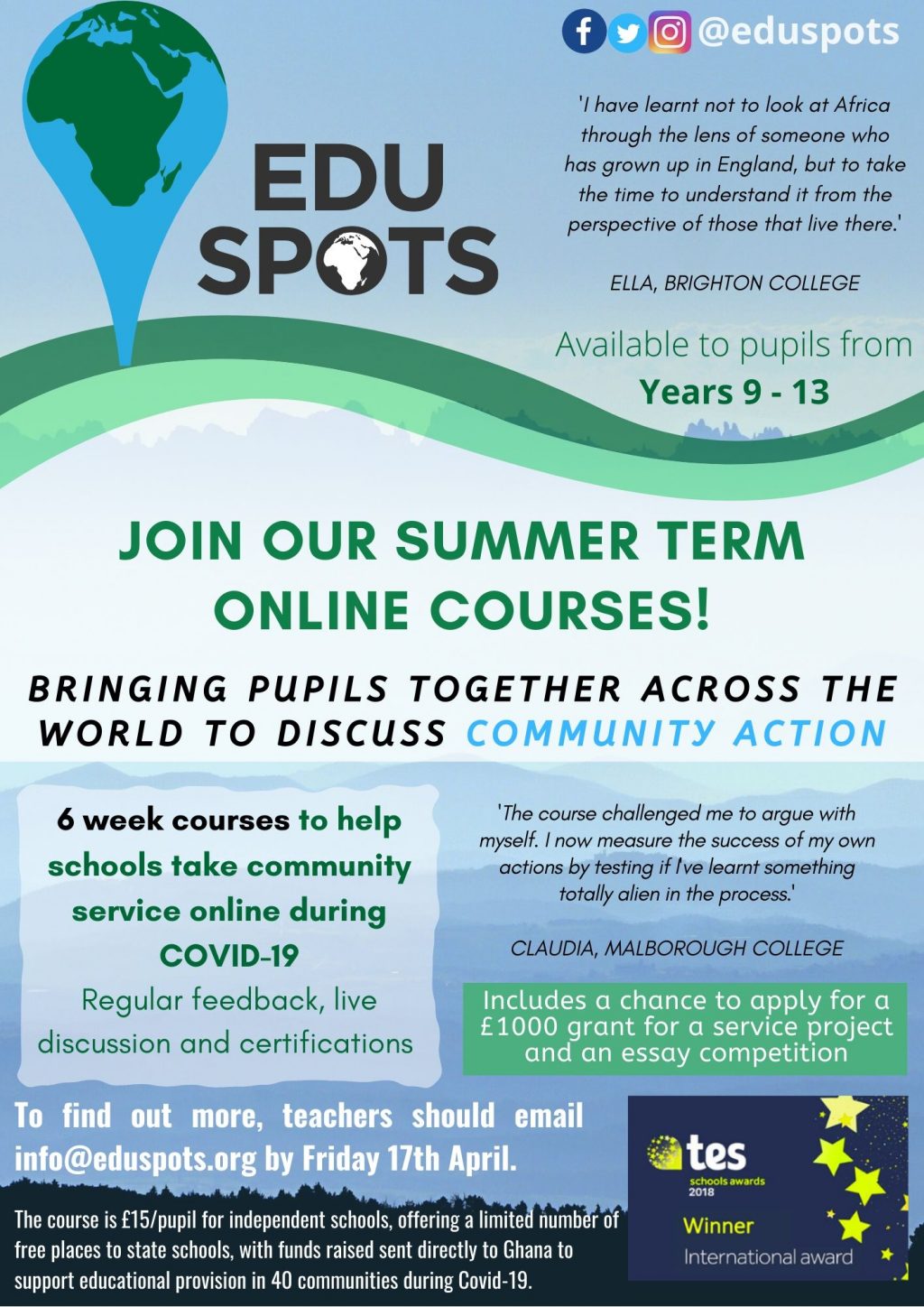 Sign up
Interested schools should sign pupils up here preferably by Monday 27th April, or if not by Friday 1st May or alternatively send gtunnacliffe@eduspots.org a list of names and home countries. There will be an introductory welcome post sent out on the 27th April, with the first post sent on the 4th May.
The course costs £15/pupil for independent schools with schools (rather than pupils) donating the funds to EduSpots (UK registered charity 1166734) directly which will be used to support our education programmes across 40 communities in Ghana during Covid-19. State and Ghanaian schools are given 10 free places. This includes supporting hygiene stations, hygiene education, and text book purchasing and loaning systems. It will also support the salaries of the Ghanaian staff supporting this course full-time.
Our course aims:
Providing pupils with an informed and critical education in community action and global development, which exposes pupils to different perspectives.
To bring pupils together from different schools in these discussions during the coronavirus outbreak.
Alongside supporting pupils interested in service and social entrepreneurship, this is great extension material for pupils interest in: Geography, Philosophy, Politics and Economics.
Online courses provided:
The courses are written by the EduSpots team, partly based on readings from an MA in Education and International Development at UCL. Course curriculums are on pages 3 & 4. Pupils would opt into one of the four courses, which would run concurrently. We suggest that younger pupils opt for courses A or C which are less complex.
Community and Action – Theory and Practice
Community and Action – Theory and Practice (advanced)
Global Development: Theory and Practice
Global Development: Theory and Practice (advanced)
How will the courses work?
These 4 courses will all run over a 6 week period. They run in the form of a blog post which is sent out directly to pupils or can be sent via teachers.
Pupils complete a task then comment on another students' post, responding to questions. It should take 60 minutes per week. A team of 4 educators from Ghana and the UK will offer monitoring of participants and regular feedback.
Pupils will receive a certificate and a report at the end if they successfully complete the course, with those offering the most thoughtful responses receiving a distinction, and a few pupils selected for 'best in cohort' recognition. We will also run an essay competition with a £200 top prize, and pupils have the chance to apply for our £1000 'changemaker' grant and programme.
Other core points in relation to safe-guarding:
Comments have a word limit and comments will have to be approved by a moderator when sent before 8am or after 6pm to enable tight monitoring.
The courses will be private (pupils/staff will be given a password to access).
Pupils should use first names only, with their town and country will be given guidelines for commenting.
Pupils can either use their emails to sign up or can use a teacher's. The course would be emailed on a weekly basis each Monday morning.
It is impossible for participants to contact each other privately through the platform. No email addresses are visible, and there is no private messaging system. Our staff will be monitoring full-time to ensure that personal details are not given out and comments are appropriate.
Data would be kept for the duration of the course and then deleted.
A team of four experienced staff from Ghana and the UK will be monitoring (George Tunnacliffe, Claudia Vyvyan, Stephen Tettegah and Ali Eliasu). Read more about our team
Feedback from our previous courses
We have run an online course in international development over the last three years and recently began a new Leadership and Action course. We have been proud to see that feedback on our courses has been overwhelmingly positive. In our Leadership and Action course:
100% would recommend the course to a friend.
100% strongly agreed that the course had improved their understanding of leading impactful projects.
100% said that the course would lead to a greater impact in their community through their actions.
100% agreed that they were stretched to think deeply by the course content.
Some comments….
'This course has really enlightened me on the key things I need to pay attention to in my project planning and execution. The courses on sustainability and project evaluation has helped me to go back to my project idea and to outline clearly the sustainability and evaluation strategies I need to employ to be successful.'
'This course taught me the importance of goal setting ( either long term or short term ), proposing program and policies to get the work done, making decisions and staying committed to project decisions, creativity and flexibility on projects, budgeting for project, Accessing results or solutions and it's impacts on community.
This has also been the case for our development course….
'It was an incredible experience. I had the opportunity to share my views on critical social issues with other young people like myself across the globe. I learnt a lot from other perspectives on how social issues can be addressed.'
Cedella (aged 18, African Science Academy)
'The course has really helped me to consider some of the harmful stereotypes that are so prevalent in the UK. I had not really thought about all the colonial roots of development and the continued exploitation of some countries. I feel that my eyes have been opened to an injustice I hadn't perceived before. We often hear about children in African countries but rarely do we hear about everyday lives and opinions of teenagers.'
Lee (aged 16, Brighton College)
About us
Alongside running these courses, EduSpots also works to connect, train and equip educational leaders across the world who believe in the power of education as a tool for community-led change. We are a collaborative project between Ghanaian community members, pupils and teachers, and UK schools. We help to create learning spaces known as 'SPOTS'. For more information about the charity itself please visit https://eduspots.org/about-us/ or follow us on @eduspots. If you have any questions about the courses or the charity please do not hesitate to contact us at info@eduspots.org.
We look forward to working with you!
The EduSpots Team